Loading...


Social Issues



Monday, November 26, 2012




Canton welcomes a new basilica




The Basilica of St. John is one of two minor basilicas in the state


by WKSU's KABIR BHATIA


Reporter
Kabir Bhatia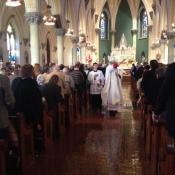 Bishop George Murry was an honored guest during Sunday's service. He facilitated the elevation of St. John's to basilica status
Courtesy of Carl Carlson
Download (WKSU Only)
In The Region:
Basilicas are Catholic churches given special ceremonial rights by the Pope, and Canton is now home to one of just two in the entire state. WKSU's Kabir Bhatia reports.
More than 400 people packed downtown Canton's St. John's Catholic Church Sunday to witness its elevation to the Basilica of St. John the Baptist.

Going from church to Basilica requires some work. A half-dozen parishioners spent the last three years filling out a lengthy questionnaire – in Latin -- and documenting the qualities of the church, from its beginnings in 1823 to construction of the soaring red-brick edifice in 1872 to its ongoing commitment to downtown Canton. George Mangus is parish council president.

"A building is just a building. A parish is made up of people. So many parishes had come from St. John's as start-ups, if you will, over the many decades. And one of the things that really stood out was not only the fine example of Gothic architecture, but really fine examples of liturgy as well as social outreach in the community."

Mangus has been attending St. John's since 1979. His friend, Veronica Sirpilla, has been coming even longer.

"I was baptized in this church. Had my first communion in this church. Went to St. John's grade school here. My grandparents were married here in 1903."

Stunning interior
Sirpilla says St. John's stunning interior is one reason for the new designation.

"Each Station of the Cross, each stained-glass window, represents a certain period of Christ's life. The whole church itself was designed by the architect that did St. Patrick's in New York City. So there's a lot of historical significance. One Protestant that came here once told me, 'I have never heard pews that creak so much.' And our pews, of course, are very old, too."

Those wooden pews line a cavernous but gleaming sanctuary with a brick floor and ornate columns that was added to the National Register of Historic Places in 1974.

Social outreach
When parishioners sent their original application to become a basilica to the Vatican, they knew an honor like this does not come easy. There are only 73 in the country, and the designation recognizes historical and architectural value, as well as parish contributions to the community. The Rev. Ronald Klingler has led the church for 24 years.

"One of the things that I think we're most proud of is our social outreach to the neighborhood. We have a Samaritan table, which we're partners with Stark County Community Services. We serve 500 meals every Thursday. We have our own parish pantry which we serve pretty close to 85 meals a week. And those are some of the things that we can do."

Klingler has repeatedly noted that being a basilica does not make St. John's a museum. He intends to fulfill the Vatican's mandate to place added emphasis on Catholic Church teachings, while humbly accepting this new honor.

---
---
---
Stories with Recent Comments