Long-time fans and alumni have been waiting four decades for this moment. For senior kicker Freddy Cortez, it's only been four years. Still, he says that seems like a long-time coming.
A place kicker, Cortez came to Kent State in 2009 from Fort Meade, Florida, a high school team that was used to playing in big games.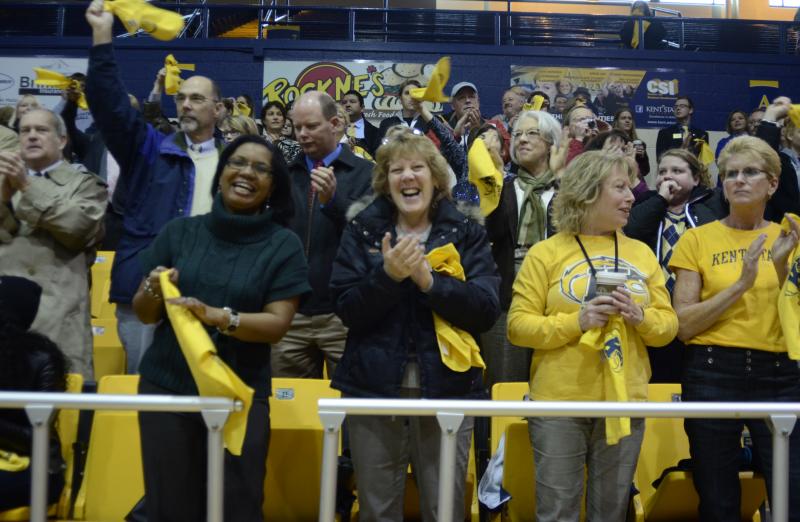 But the Golden Flashes went 5-7 in each of Cortez's first three seasons.
Still there was something different about that last 5-7; the team ended the 2011 season winning four of its last five games. And Cortez says he could tell the culture of the team was changing during summer practices before this season.
"Those first three years were just a big down year, but seeing how we worked out and how everybody was so committed and so dedicated over the summer, I knew something special was coming around. I didn't know it was going to be this special."
"This special" includes Kent State's first win over a nationally ranked opponent, its first undefeated season in conference play and the first time the team has recorded 11 wins in a year.
Cortez and the Golden Flashes will be taking on the Northern Illinois Huskies in the MAC Championship game. The Huskies are also 11-1, and boast the MAC Player of the Year – quarterback Jordan Lynch.
Kent State head coach, and MAC Coach of the Year, Darrell Hazell said he expects a tough game from Northern Illinois. He spent the week stressing attention to detail to his team.
"This week's whole theme is when two good teams play success is measured in inches. It's going to be that type of game – where every inch matters."
While kicker Cortez describes the team's success as a dream season, he says it would be a bit hollow if Kent goes this far and does not end up with the MAC Championship.
"It's just something I know I can look back on and tell myself 'I was there. We did this.' And if we win it I can be able to say – for the first time – be able to call myself a champion."
Kent State is playing Northern Illinois at Ford Field in Detroit at 7. The game will be televised on ESPN2. Which bowl game the 17th-ranked team plays in will depend other teams playing this weekend, as much as Kent.