Loading...


Ohio



Monday, December 3, 2012




Longtime Akron council president moves over to administration




Marco Sommerville joins Plusquellic as planning director


by WKSU's MARK URYCKI


Reporter
Mark Urycki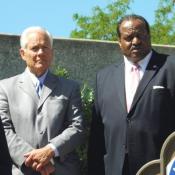 Akron Mayor Don Plusquellic and Council President Marco Sommerville earlier this year.
Courtesy of MARK URYCKI
Download (WKSU Only)
In The Region:
The shakeup continues at Akron City Hall. After Deputy Mayor Dave Lieberth retired, Planning Director John Moore became service director. Now Akron Mayor Don Plusquellic has asked City Council President Marco Sommerville to quit council and take over as planning director. Sommerville has agreed. When Sommerville began on council 25 years ago, the planning department was not under the control of the mayor. Sommerville recalls asking one of its members for help.
"I asked a question about improvements in my ward and he asked if that were a rhetorical question. And I told him that it wasn't. From that point on I knew that something had to be done about the way the planning department interacted with the community."
Sommerville will now oversee the city's capital budget and decide how to invest in the city's neighborhoods. City Council will appoint a replacement to for the remaining year of Sommerville's term on council.
---
---
---
Stories with Recent Comments