Loading...


Sports



Wednesday, December 5, 2012




Hazell confirms he's heading from Kent to Purdue




Won't reveal the terms of his contract, including a buyout of the remaining three years at Kent


by WKSU's M.L. SCHULTZE


Web Editor
M.L. Schultze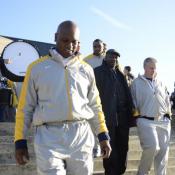 Darrell Hazell came to Kent State two years ago after seven years as an assistant at Ohio State. He confirmed this morning he's heading to Purdue.
Courtesy of Robert Sustersic
Download (WKSU Only)
In The Region:
Kent State's head football coach Darrell Hazell has confirmed that, after two years at Kent, he's taking the head coaching job at Purdue University. Hazell accepted the offer from Purdue at 9 last night, hours after Twitter and other social media were spreading the word. At a press conference this morning, Hazell would not discuss the terms of his contract, including whether Purdue will buy out the final three years on his agreement with Kent State. The contract requires Hazell to repay the university for if he leaves early. Hazell says he's encouraging the Kent players to remain, and that he's not quitting on them.
"Absolutely not. I don't feel like I'm quitting on them, but you think that, are you being selfish by leaving. But I've coached for 27 years in college football and I realize this is part of the business and opportunities like this do not come along every day. And when they do, you're not guaranteed anything. You look at it closely, see if it fits you, and then you've got to make a decision."
Hazell would not rule out inviting other Kent coaches to go with him.
And he said it will be up to Athletic Director Joel Nielson just who coaches from the sidelines when Kent plays in the GoDaddy.com Bowl in Alabama on Jan. 6.
---
---
---
Stories with Recent Comments