Loading...


Economy and Business



Wednesday, December 5, 2012




Cleveland Museum of Natural History expanding




$125 million, decade-long campaign will enlarge museum by one-third


by WKSU's KABIR BHATIA


Reporter
Kabir Bhatia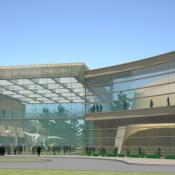 Design concept of the entrance hall for the $125 expansion campaign
Courtesy of Fentress Architects
Download (WKSU Only)
In The Region:
Cleveland's dinosaurs are getting a new home. The Museum of Natural History is kicking off a decade-long, $125 million expansion and makeover campaign. WKSU's Kabir Bhatia reports.
The renovation will make some major exhibits, such as dinosaur skeletons, visible from the outside. And previously hidden research areas will be visible to visitors inside. Green roofs, solar-power, a new lobby and parking garage, plus consolidation of outdoor wildlife areas, will make the museum about a third bigger than it is today.

A planned expansion in 2008 was halted due to the recession, and Executive Director Evalyn Gates arrived soon after. She says it's always challenging to raise funds for a new project.

"But right now there's a growing recognition, as a region, as a country that we need to do something urgently about science education. And inviting people to understand more about the natural world around them, and our place within it. Which is what natural history is. And that's resonating with a lot of individuals, funders, foundations who are looking for opportunities to really make a difference in education and science education. That's the whole motivation for doing this project."

The museum was established in 1920, moved to University Circle in the 1950s, and the last major expansion was for the planetarium more than a decade ago. Ground-breaking for the renovation will not begin until 70 percent of the cost is raised, and Gates says the museum hopes to stay open during construction.
---
---
---
Stories with Recent Comments