Loading...


Arts and Entertainment



Tuesday, December 11, 2012




Cleveland Christmas Memories




New book looks back at downtown holiday spectacle


by WKSU's KABIR BHATIA


Reporter
Kabir Bhatia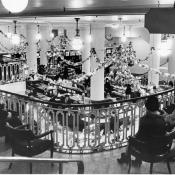 The scene at Halle's during Christmas season, 1963, just one of the images in the new book, "Cleveland Christmas Memories."
Courtesy of CSU Archives
Download (WKSU Only)
In The Region:
Cleveland and Christmas will always be linked on film by "A Christmas Story." With its glittering glimpse of the holidays, it recalls a time when downtown Cleveland was full of yuletide decorations and events. WKSU's Kabir Bhatia has more on a new book about that era, "Cleveland Christmas Memories."
"We always came here for our pictures with Santa, and I mostly remember sweltering in my snow suit."

Author Gail Bellamy remembers best gazing at the Halle's – not Higbee's -- department store windows as a child. The animated displays of toy soldiers, trees, tinsel, reindeer, toys, wrapping paper, lights and a hundred shades of red and green took nine months to design and construct in time for each Christmas season.

"Some of the themes at Halle's were 'Pioneer Christmas,' 'Christmas Around the World,' 'Victorian Christmas,' 'The First Christmas In Space,' with astronauts and aluminum Christmas trees, of course. The space age decoration of choice. It was really just this visual feast where you could walk down Euclid Avenue and everywhere there was something."

The Trail of Cheer
Back then, Halle's was just one of the stores lining Euclid Avenue.

"We'd stay on the Halle's side of the street and we would be passing Kresge's and Grant's and Woolworth's and then head down to Higbee's and May Company. Across the street, right there, was Sterling-Lindner and maybe, you know, hedge your bets you would talk to Frances the Talking Mule and perhaps another Santa Claus. Couldn't hurt."

Christmas Dinner
Photos and memories of all of those stores are in Bellamy's new book, "Cleveland Christmas Memories." Perhaps because she spends her days as a food-magazine editor, Bellamy found that many of those memories also involve Christmas dinner.

"And many people used phrasing like Oh you know, the usual.' And it turned out there really is no usual. For some people its turkey or ham or roast beef or pork chops. Or it might be a meatless meal on Christmas Eve or Feast of the Seven Fishes. Or it might be sausage or pasta or pheasant or hasenpfeffer. And it's just whatever their family was used to."

Today, Sterling-Lindner is an IT company. Higbee's houses the Horseshoe casino. And the Halle building is eerily quiet, with a few professional offices on upper floors and not much else.

Bellamy attributes that to the passage of time as buyers gravitated to suburban malls, where huge Christmas displays live on.
---
---
---
Stories with Recent Comments