Loading...


Courts and Crime



Friday, December 7, 2012




Public questions about police shooting




Last week's shooting of two unarmed motorists leads to occasionally tense town hall meeting


by WKSU's KABIR BHATIA


Reporter
Kabir Bhatia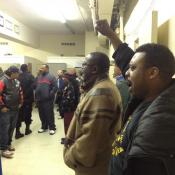 As the evening drew to a close, the crowd began counting from 1 to 137 -- the number of bullets fired last Thursday
Courtesy of Carl Carlson
Download (WKSU Only)
In The Region:
A town hall meeting last Thursday night in Cleveland was set up to answer questions about last week's shooting by police of two unarmed motorists. WKSU's Kabir Bhatia reports those answers are piecemeal for now, but did lay some rumors to rest.
About 300 people crowded into the basement of Abyssinia Baptist Church on Cleveland's east side for a meeting filled with complaints of past police harassment and departmental racism -- and a search for answers about last Thursday's shooting. The meeting sometimes verged on chaos. And it often focused on the number of bullets fired by police.

Answers forthcoming
Cleveland Mayor Frank Jackson, Safety Director Martin Flask and Police Chief Michael McGrath tried to explain that they don't know yet exactly why Timothy Russell and Malissa Williams were pursued. Nor why they were struck by 47 of the nearly 140 bullets fired by 13 officers. But Jackson pledged to get the truth.

"It is very important to us, even though there are people critical of the way we may handle things, that we do this in a way to ensure that when we reach the truth that we have the ability to deal with those who acted out of the department."

Rumors quashed
The 25-minute chase started in Cleveland, winding through several districts before hitting a dead-end street near East Cleveland's Heritage Middle School. Chief McGrath estimated that 30 units responded from Cleveland, Bratenahl and the state Highway Patrol. He acknowledged no gun was found in the car, and dispelled rumors that a gun was thrown from the car during the chase. And he explained that police tapes that included two voices calling off the chase had been misinterpreted.

"Most of the cars in the pursuit were out of the 2nd or 3rd district. And the 2nd district, that radio channel, was controlling that pursuit out of protocol. So the ones that were called off never really got involved. It got close to their districts, and their supervisors told them, 'Disengage. Terminate. Do not get involved in the pursuit.' So that's how it came about as far as the call offs. The pursuit itself, per se, was not called off by anyone."

But Trina Williams questioned why the chase from downtown Cleveland to East Cleveland accelerated so far and so fast before police opened fire, killing her cousin, Malissa, and Russell.

"Why didn't they have a helicopter? You have marksmen – police officers – 40-year veterans, who can't tell the difference between a firecracker, or a gunshots, or a backfire of a car versus gun shots? Until they answer those questions, we're gonna fight for this on our own."

Damage to police cars
Both Williams and Russell had criminal records. And Cleveland police union officials – who were not at Thursday's meeting – have said Russell rammed police cruisers and may have tried to hit an officer. Safety Director Flask outlined the extent of the damage.

"There was a considerable amount of damage done to police cars. But it appears the damage came either from collisions, or by gunshots fired by other Cleveland police officers."

Things calm down
Despite the sometimes tense two hours of questions and comments, the meeting took on a more relaxed and almost friendly atmosphere afterward. Lamont Robinson of Cleveland is one who is satisfied, for now, that authorities are trying to find the truth.

"We gotta let them do their work. We're willing to give them they time, but they gotta come back with the truth on this. They've got to. They've already stated that, if they're wrong, justice will be done. It's just a shame; 137 shots is just sad."

Martha Thomas, also from Cleveland, agrees.

"I see good in everybody. They have problems. We all do because we're all human. I don't especially like what happened, but the man up above is gonna take care of it. They're gonna get answers to all their questions in about the next weeks. And maybe the next 2 days. Who knows?"

Gunshot residue tests on the victims are due later today or early next week. The state Bureau of Criminal Investigation has taken the lead in the case and the 13 officers involved are being interviewed in what could be a year-long investigation.Chief McGrath also has contacted the U.S. Attorney's Office, which is observing the investigation.
---
---
---
Stories with Recent Comments