Loading...


Government and Politics



Friday, December 7, 2012




Highway Patrol probing threats vs GOP legislators


Ohio officials are investigating a series of threats that were directed toward some state legislators




by WKSU's STATEHOUSE CORRESPONDENT BILL COHEN



Reporter
Bill Cohen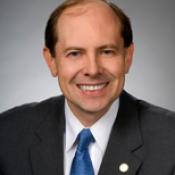 Republican State Representative Jay Hottinger
Courtesy of Ohio House of Representatives
Download (WKSU Only)
In The Region:
Several Republican state legislators are being closed-mouthed about threatening letters they received in September. Jay Hottinger, one of the targets, says they can't comment because the Highway Patrol is investigating.
I've had other threats and other death threats in my 18 years in the General Assembly. This is one of a very serious nature that is being taken seriously by the Highway Patrol and other authorities.
The letters to Hottinger and five other Republicans came from a group that called itself the "Army of the 12 Monkeys." That could be a reference to a 1995 film "12 Monkeys," set in a post-apocalyptic future where a terrorist organization is believed to have released a lethal virus.
---
---
---
Stories with Recent Comments