Gov. Kasich's poll numbers are on the rise
For the first time since his inauguration, Gov. John Kasich has more registered voters thinking he's doing a good job than a bad one.
The latest Quinnipiac poll gives him a 42 - 35 percent job approval rating. But those same voters are saying – by a nearly identical margin – Kasich does not deserve a second term.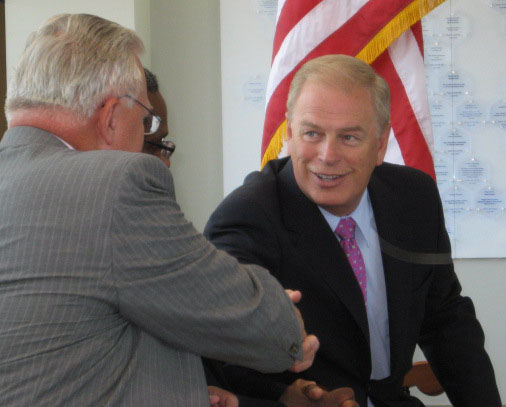 Overall, Kasich's favorable rating is 40-34 percent. Former Gov. Ted Strickland beats him there, with a 41-29 percent rating. Strickland is considered the best known of the Democrats who may challenge Kasich in 2014. Others are former Attorney General Richard Cordray, who now heads the U.S. Consumer Financial Protection Bureau, Cuyahoga County Executive Ed Fitzgerald and U.S. Rep. Tim Ryan.
There's also talk that Kasich is lining up to run for president in 2016.
Plain Dealer Guild members vote on six-year deal
Union members working in the Plain Dealer's newsroom are voting today on a six-year contract that restores some of the pay that was cut three years ago and preserves health benefits. But it also includes 58 layoffs next year and clauses that give management more flexibility to pick staffers who will work on the newspaper's web site.

The Plain Dealer is owned by Advance Publications, and a half-dozen of its sister papers in six states have gone to three print editions a week, while moving more content to their Web sites.

Cuyahoga County will annouce deal on AmeriTrust, admin building today

Cuyahoga County is expected to announce this afternoon who will be making a deal for the old AmeriTrust complex.
The complex has been vacant since even before the former county commissioners voted to pay $21.8 million for it back in 2005. The county poured millions more into asbestos removal and consulting contracts before abandoning the project.
The county is also selling its administration building and 11 other buildings in or near downtown Cleveland and is looking for a long-term lease for county offices.
Cleveland talks race relations
Cleveland is hosting a race relations forum tonight at the Hispanic Senior Center, and plans similar forums throughout the city next year.
The forums are hosted by the city's Community Relations Board and Metro Health System. Race relations in the city are gaining more attention since police fired 137 shots after a high-speed chase that began in downtown Cleveland the night of Nov. 29th. The shots killed the motorist and his passenger, both black and unarmed.
Will Saban leave 'Bama for the Browns?
The Boston Globe is reporting that the Browns are trying to lure Nick Saban away from college coaching and back into the NFL.
The Globe says the Browns are working first on hiring Michael Lombardi as general manager. Saban and current NFL analyst Lombardi worked together for the Browns in the early '90s. Saban was defensive coordinator and Lombardi was player personnel director.
Saban is now the coach at Alabama, where he's won two national championships. He'll be playing for a third against Notre Dame on Jan. 7.