Loading...


Ohio



Tuesday, December 11, 2012




Quinnipiac poll shows boost in Gov. Kasich's ratings




Approval numbers hit the highest yet


by WKSU's M.L. SCHULTZE


Web Editor
M.L. Schultze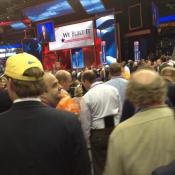 Gov. John Kasich gave one of the prime-time speeches at the GOP convention this summer.
Download (WKSU Only)
A new Poll gives Gov. John Kasich positive job-approval numbers for the first time since taking office. The survey by Quinnipiac University says 42 percent of voters approve of the governor's work, compared to 35 percent disapproval. But in the same survey, 43 percent of respondents say Kasich does not deserve a second term. Still, Quinnipiac pollster Peter Brown calls the poll a victory for the governor since a majority of Ohioans are happy with the direction of the state.
11000 BROWN "re-election" :09
"Happy voters tend to make for happy politicians because happy voters tend to re-elect incumbents, … (though) Mr. Kasich certainly has a long way to go towards re-election."
The Quinnipiac poll also says among Ohioans who say the economy is improving, 88 percent give at least some credit to the governor, while 72 percent give at least some credit to President Obama.
---
---
---
Stories with Recent Comments