Loading...


Arts and Entertainment



Tuesday, December 11, 2012




Rock Hall announces Class of 2013




Rush, Donna Summer in this year's class


by WKSU's KABIR BHATIA


Reporter
Kabir Bhatia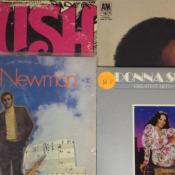 Randy Newman, Donna Summer, Albert King, Heart, Rush, Public Enemy and producers Quincy Jones and Lou Adler will be inducted next year
Courtesy of Carl Carlson
Download (WKSU Only)
In The Region:
It's been a long wait for almost every artist in the Rock and Roll Hall of Fame's Class of 2013. WKSU's Kabir Bhatia reports on this year's crop, which includes progressive rock, blues, disco, hip-hop, jazz and satire.
Rush released its first album in 1974, and the power trio's endless touring was bolstered by strong support from Cleveland radio. This year, massive fan support helped the Canadian band make its debut on the rock hall ballot, after 13 years of eligibility. And that same support put them atop an online poll, another first.

Donna Halper broke the band in the U.S. at WMMS, and has spearheaded efforts to have Rush inducted.

"We wrote. We started petitions. We picketed. I mean there actually was a small group last year that picketed in front of the Rock Hall. There are so many fans out there who have just been despairing because it's like 'what does this band have to do to get respect?'."

Heart, started by sisters Ann and Nancy Wilson, was among the first and most successful female heavy metal bands. They're staples of classic rock radio. And they've been eligible for more than a decade.

So has Donna Summer. The disco queen died in May and was shut out four times before. She's the fourth best-selling female artist who's not in the Hall, and she had four No. 1 singles in the late 1970s. But on the flip side: Albert King sold a relative handful of records in the 1960s. But he's one of the most influential guitarists of all-time, with disciples like Eric Clapton, Stevie Ray Vaughn, Jimi Hendrix and Joe Walsh. King has been eligible since 1987.

So has Randy Newman. Like his famous uncles Alfred and Lionel, Newman is an Oscar-winning film composer thanks to his work on movies like "Monsters, Inc." But his non-movie career is filled with songs and albums that fuse his New Orleans roots with an L.A. singer-songwriter sensibility and weirdly affecting lyrics. He's been on the ballot once before. And making their debut, in their first year of eligibility is Public Enemy.

The hip hop pioneers led by Chuck D and Flavor Flav dropped politically charged lyrics over dense layers of loops and samples, creating a blue print for hip hop ever since. Radio analyst and programmer John Gorman says that such an eclectic group could ruffle some feathers.

"The problem that the Rock Hall has is controversy. What is rock and roll and what isn't? And everybody has their own definition of where rock stops and hip-hop or rap or something starts."

Non-performers
Joining this year's performers are two who gained their fame primarily as non-performers. Lou Adler produced hits like Carole King's "Tapestry" album and most of the singles by the Mamas & the Papas before branching out into film production. He's joined by Quincy Jones, who started as a jazz musician and eventually ran Mercury Records, scored numerous films and produced huge hits for Frank Sinatra and Michael Jackson, among others.

The Rock and Roll Hall of Fame's induction ceremony will be held April 13 in Los Angeles, the first time it's been on the West Coast in 20 years.
---
---
---
Stories with Recent Comments