Loading...


Government and Politics



Tuesday, December 11, 2012




Ameritrust complex will remain part of Cuyahoga County's future




The county sells the building, but agrees to become a tenant


by WKSU's KEVIN NIEDERMIER


Reporter
Kevin Niedermier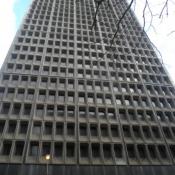 The Ameritrust tower will become downtown residential real estate, with a county office building as part of the complex.
Courtesy of KEVIN NIEDERMIER
Download (WKSU Only)
In The Region:
Cuyahoga County has sold its controversial Ameritrust complex to a developer who plans to turn it into apartments, with a new county administration building and maybe some retail attached. The Geis Companies won the bidding for the downtown Cleveland building with a $27 million offer. The old county government sunk some $42 million into buying and renovating the complex before it realized it was unsuitable as a county administration building. Now County Executive Ed FitzGerald says a smaller office building at the south end of the complex will be torn down and re-built as the new county administration building. FitzGerald says the county will then lease the building from Geis.
"So they're constructing the building in return for a 25-26 year lease. The question becomes, 'Is that a good deal for the county?' Well our annual payments under that plan are about $6.5 million dollars. Our annual payments for the buildings we currently occupy is closer to $12 million."
FitzGerald says 750 county workers will be consolidated in the new facility. They're now scattered among eight of the 13 buildings the county has up for sale. FitzGerald says the new county facility should be completed in about 18 months. The deal will be presented to County Council tonight. It's expected to vote on the package by late Janaury.
---
---
---
Stories with Recent Comments