Loading...


Sports



Thursday, December 20, 2012




New book on 50 years of Football Hall of Fame




Look back at the origins of the game, with quotes from every enshrinee


by WKSU's KABIR BHATIA


Reporter
Kabir Bhatia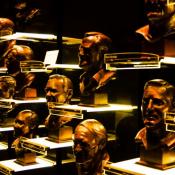 A new book looks back at 50 years of the Pro Football Hall of Fame in Canton.
Courtesy of Robert Sustersic
Download (WKSU Only)
In The Region:
The Pro Football Hall of Fame in Canton is commemorating 50 years with a new book looking back to the origins of the game. WKSU's Kabir Bhatia has more.
The revamped Hall of Fame is teeming with visitors gazing in hushed reverence at football artifacts. But what's on display is just part of the game's long history. Joe Horrigan has been with the Hall for 36 of its 50 years, and he and John Thorn have written a new book, "Where Greatness Lives." It features a wealth of information that's rarely, if ever, on display.

"I think the biggest challenge was [having] so many things to choose from. Particularly if you're looking at the 4 million graphics that we have in our photo collection. So when we're trying to pick the best, or the ones that tell the story the best, that became very challenging. And just choosing artifacts that we want to feature. You don't want to have 200 pages of jerseys. You want to get some balance. So we brought out some of the unusual artifacts that helped tell the story."

Artifacts
That story is told through displays of vintage helmets that look as protective as cowboy hats. Pictures of a game-making piece of Cleveland Stadium's goal post from 1945. The NFL's rule book from 1933, when the league deviated from college rules for the first time. And ancient documents that provide a peek at the NFL's infancy.

"That's from 1917, I believe. This is the Chicago Cardinals incorporation papers. Now, the Chicago Cardinals are now known as the Arizona Cardinals. And for those fans out there who may think that the Arizona Cardinals are a relatively new team, they're actually the oldest team in the NFL. It's arranged chronologically but it's not a year-by-year, day-by-day story. It's a lot of essays, ranging from Peter King to Steve Sabol to Dave Anders from the New York Times. We really put a lot of thought into this. We really wanted to have a very comprehensive and different approach to telling the same story."

The game in society
"Society and sport have always been microcosms of eachother. And I think there's a lot of stories in here, [such as] pro football reintegrating in 1946, a year before baseball. But that is really the stories about how America was integrating after World War II. Having had the military and how there was this sense of unity. I think that transferred over to our country and sport was a big part of it, because it made social changes possible."

Think of it either as a lively textbook or a scholarly coffee table book.

Perspective
Tim Watko from Massillon was among the fans having his book signed at the Hall of Fame last weekend, and he appreciates the historical perspective.

"Just on the older players, that really started the game. And some of the older one that went in the Hall that I never really knew. So that's why I really liked it."

Watko was already tearing into the book before leaving the building. Guy Ruda from Canton has read the book cover-to-cover and likes the modern-day perspective.

"The Hall-of-Famers (who) are actually living today, giving their insights to Pro Football Hall of Fame and the NFL. And if you're any kind of a history buff, which I am, NFL history is right here and this is where it all started."

Along with the 50th Anniversary book, Horrigan and the Hall of Fame have put together a 9,000 square foot travelling exhibit that will be in New Orleans ahead of the Superbowl before crisscrossing the country for the next several years.
---
---
---
Stories with Recent Comments