Loading...


Economy and Business



Thursday, December 13, 2012




Kasich unveils Turnpike plan




Ohio's governor wants to fund other highway construction with increased tolls, and add another toll road heading through oil and gas country


by WKSU's KEVIN NIEDERMIER


Reporter
Kevin Niedermier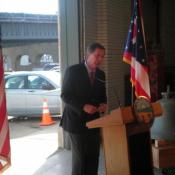 Governor John Kasich in Cleveland announcing his plan to boost Ohio Turnpike tolls to generate highway construction funds.
Courtesy of Kevin Niedermier
Download (WKSU Only)
In The Region:
Gov. John Kasich wants to fund much needed highway construction projects by increasing tolls on the Ohio's Turnpike. The governor announced the plan today, surprising many people who thought he would push for the toll road to be privatized. WKSU's Kevin Niedermier reports.
Following a state funded study on ways to generate extra revenue from Ohio's 63-year old turnpike, which included leasing or selling it to a private contractor, Gov. Kasich has settled on keeping it public. And he says by increasing the tolls each year, capped at the inflation rate, the state can issue bonds and create more than a billion dollars in new construction funds. And, using that money to leverage federal funds could mean as much a $3 billion.

Ninety percent of the revenue would be spent on northern Ohio projects, and Kasich says it will create 65,000 new jobs. At a stop in Cleveland with the once-delayed Innerbelt bridge project in the background, Kasich said this and other projects will benefit.

Kasich says more money could have been generated through privatizing the turnpike, but his plan keeps the road in state control, and no turnpike workers lose their jobs. The plan has support from the Ohio Department of Transportation, and communities along the 241-mile stretch.

State lawmakers must approve the project for it to go forward. Republican State Rep. Lynn Wachtmann of Napoleon on the turnpike's western end says he'll introduce the bill early next year.

Wachtmann has recruited Democratic Rep. Bill Patmon of Cleveland as a co-sponsor.

But other Ohio Democrats say Gov. Kasich's turnpike plan will hurt families who will have to pay the higher tolls. State Democratic Party Chief Chris Redfern says he doesn't understand why Kasich came up with this plan after rejecting federal stimulus money from President Obama for transportation projects.

Some Democrats say Kasich is trying to win votes as his 2014 re-election approaches.
---
---
---
Stories with Recent Comments