Loading...


Sports



Wednesday, December 19, 2012




KSU likely to raise the MAC salary standards with new football coach




Paul Haynes could become the highest paid coach in the MAC


by WKSU's AMANDA RABINOWITZ


Morning Edition Host
Amanda Rabinowitz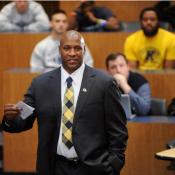 Paul Haynes, a Kent State alum and defensive coordinator at Arkansas, is Kent State's new football coach.
Download (WKSU Only)
Kent State has hired Arkansas defensive coordinator Paul Haynes as its next head football coach, less than a month after Darrell Hazell announced he's leaving to coach at Purdue. Haynes is a 1992 Kent alum --- he was a walk-on on the football team and was defensive backs coach from 1999 to 2000. He also worked with Hazell at Ohio State under Jim Tressel.

Haynes will inherit a Kent State team that is coming off of its best season in school history. WKSU commentator Terry Pluto talks to Amanda Rabinowitz about what Haynes brings to the position, what Kent State is likely to pay him.
---
Related WKSU Stories

Ohio State football is done while Kent plays on
Wednesday, November 28, 2012

Kent State football going to the GoDaddy.com Bowl
Monday, December 3, 2012

Kent State reverses long-suffering fortunes
Thursday, November 29, 2012

No. 17-ranked Kent heads to championship game knowing a bowl game will follow
Tuesday, November 27, 2012

Top-25 Kent State football hopes to avoid "the MAC curse"
Tuesday, November 13, 2012

Hazell says Purdue decision had to be fast
Wednesday, December 5, 2012
---
---
---