Loading...


Courts and Crime



Tuesday, December 18, 2012




Convicted Ponzi scheme operator files appeal




But Timothy Durham says he can't afford to hire a lawyer


by WKSU's TIM RUDELL


Reporter
Tim Rudell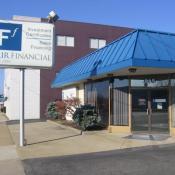 The main office for Akron based Fair Finance was closed after federal agents raided it, and the offices of Timothy Durham and others in Indianapolis
Courtesy of TPR
Download (WKSU Only)
In The Region:
The man who got 50 years for his part in the Fair Finance fraud is appealing his federal court conviction--and the public may foot the bill for that appeal. WKSU's Tim Rudell reports.
When Timothy Durham filed this week in Indianapolis Federal Court to appeal his 12-count conviction, he also told the court he's broke.
Although he was found guilty of stealing 200-million dollars from investors in Akron-based Fair Finance, he's said since his trial that any money he had is gone.
Now, so are his lawyers.
But, Vanessa Malone with the Federal Public Defenders Office says it's fairly common for a conviction to leave a defendant indigent; and so the practice of appointing council for someone standing trial who can't afford an attorney extends to the appeal process too when necessary. "In the pursuit of fairness the Supreme Court said that a rich person can't have more of a benefit to make an appeal than a person who can't afford council. So, the purpose was to put everybody on equal footing. "

Durham was tried in Indianapolis because that's was his business operating base. If his appeal is granted, it will be heard by the 7th Circuit Court of Appeals n Chicago.
---
---
---
Stories with Recent Comments