Loading...


Education



Wednesday, December 19, 2012




First-responder training proposed for Ohio teachers




Dewine says the state will offer training for teachers in case of shooting




Story by

STEVE BROWN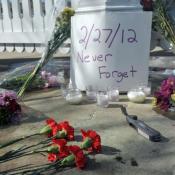 Dewine says the training course stems from recommendations from a task force formed after the shooting at Charon High School in February.
Courtesy of Valerie Brown
Download (WKSU Only)
In The Region:
Ohio Attorney General Mike DeWine says the state will begin offering training for teachers on how to be first-responders to shootings. DeWine says the recommendation came out of a task force formed in the wake of the Chardon, Ohio school shooting in February.
"The course focuses on identifying someone who might pose a problem, so it is preventative course. It is also a course of what you do to get ready; how you practice, the drill and also what you do if the emergency does in fact occur."

DeWine says the course will focus on how to identify a potential shooter, and what to do in the midst of a school shooting. DeWine says his office is also working with school districts that have not submitted safety plans.
---
---
Stories with Recent Comments