Loading...


Arts and Entertainment



Friday, December 21, 2012




WKSU's "Godfather of Folk" retires




After 31 years, Jim Blum steps down and looks back at a lifetime of music


by WKSU's KABIR BHATIA


Reporter
Kabir Bhatia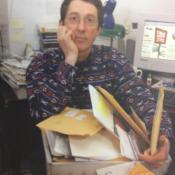 Jim Blum begins his final run of WKSU shows this weekend after 31 years on the air. He can still be heard on FolkAlley.com
Courtesy of WKSU archives
Download (WKSU Only)
In The Region:
Weekend folk music has been a tradition at WKSU for most of its existence, and Jim Blum has been the man at the mic for the last three decades. WKSU's Kabir Bhatia reports on Blum's retirement, heading into his final weekend of shows.
Jim: "I have to find Spencer Cain's upright bass bow…"

As on just about every Friday afternoon for the past 31 years, Jim Blum is weaving dozens of tasks together with the business of putting together his show. The ever-youthful folk host is in the home stretch of a career that's blanketed Northeast Ohio with music heard almost nowhere else. What began as a few hours each week now also spans the globe through the 24-hour Folk Alley internet and HD radio channel, where Blum will continue to be heard.

From fan to folk
He started out as a fan of the station in the 1970s. It even inspired him to start a long-running bluegrass band. But constant touring burned him out and he returned to his native Chardon. And then:

"I got word that WKSU lost its bluegrass host. So I auditioned for it. I prepared a four-hour show. And they wrote back, saying, 'It's all good, but we only needed to hear you for about five minutes.'"

"When I first started, my goal was to present folk music in all of its different wardrobes -- we're talking Celtic and bluegrass and blues and now this so-called Americana and roots music — was to give it the same professional platform that the classical music was already receiving. I really don't like 'pickin' and grinnin'.' I wanted to give these musicians -- and so many others like them whose names you don't know yet -- I wanted to give them that same panache, that same presentation and professionalism and artistic integrity."

Looking back
WKSU played lots of music from lots of different genres.
"In the old days, I used to get a box of CDs, and I would pick them out of the box, and I play them through the night. Take calls. Do requests. And be exhausted. But it was an adrenaline rush."

Today, Blum puts much of the show together digitally, during the day, so he can head out in the evening to check out live music. Many times, that's at the Kent Stage. Owner Tom Simpson says he took the venue in a folk direction when it opened a decade ago specifically because of Jim Blum's influence.
"I joke around about Jim, calling him 'The godfather of folk in Northeast Ohio,' but Jimmy truly is. We also look to Jim for advice on who to bring to the Kent Stage. Who's coming up, who we should look at, what we should do, how we can reach the people, who to engage? Jim and I always talk about passionate advocates, and I think the folk radio community in Northeast Ohio will need to find another passionate advocate."

The big announcement
Blum announced his retirement at the Kent Stage earlier this year, just before a concert by Tim O'Brien.

"Did anyone give him permission? I certainly didn't. Listen, Jim, let's talk about this. What if we let up and let you come out of the studio for maybe 10 minutes each day? Wouldn't that be enough? And who in the heck is going to do the farmer's market reports now? Sweet corn, green beans, tomatoes, squash, Amish cheese, maple syrup. Maybe Matt Watroba will do it, I don't know."

Matt Watroba hosted folk music in southeast Michigan for 25 years before joining Blum at WKSU and on Folk Alley in 2010.
"The listeners feel like they know him. His little quirks as well as his -- everything. And I felt like I knew him instantly after hearing him for the first time. And luckily, for me, I share an office with the guy, so the truth is: that's who he is. He's just right out there. If you listen to Jim, you know Jim. And that's not true of all radio personalities."

Tough decision
Blum says, "My work life and my personal life have melded together to where I have not been able to separate the two. That's been good, because I've always been told you'll be the most productive if you're doing what you like. I've met Judy Collins and Bela Fleck and Sam Bush. And I helped Alison Krauss get her first job in Ohio when she was 18. This has all been tremendous. But I've never been to two of my sisters' homes. And I probably missed too much of my mother's final years."

Looking to the future, he'll continue advising the Kent Stage and working on Folk Alley. But long-term, as he often does, he is getting his inspiration from music.

"I received some advice from a musician who goes by the name of Freebo. He played with Bonnie Raitt for nine years. When I told him my reasoning for wanting to step aside, he said, 'You need to have the courage to close one door before you even begin to look at the next ones you might open.'"

But before closing any door, Jim Blum is spending a final Friday juggling his usual dozen tasks and a show he loves.
His final shows start Saturday night, with his annual holiday folk weekend. He can still be heard on Folk Alley on WKSU-HD4 and FolkAlley.com.

A farewell video for Jim Blum by artist Warren Brown
---
---
---
Stories with Recent Comments