Loading...


Social Issues



Wednesday, December 26, 2012




Cleveland Botanical Garden's post-holiday "Glow"




Garden and light and extravaganza runs through New Year's Eve


by WKSU's KABIR BHATIA


Reporter
Kabir Bhatia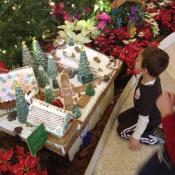 Hundreds of gingerbread houses nestled amid dozens of Christmas trees provide a festive walkway before entering the gardens themselves
Courtesy of Kabir Bhatia
Download (WKSU Only)
In The Region:
The Cleveland Botanical Garden in University Circle is in the midst of its first official holiday extravaganza, simply called "Glow." WKSU's Kabir Bhatia has more on the glittering gala of gardens and good tidings.
It's the day after Christmas. You're dreading the winter blahs. And you have a house full of still-festive but possibly antsy revelers.

"It's a church!"

"It's a castle!"

Decorative gingerbread houses can be a powder keg of controversy, and the Cleveland Botanical Garden has almost 100 of them on display through New Year's Eve, decorated with candies and colors galore. For years, the indoor gardens have been wrapped in Christmas cheer. But for the first time, the celebration is much bigger and has an official name: Glow.There's a 25-foot tree and 40 poinsettias decked out in lots of gold and white to go with the traditional red and green. And that's just the lobby.

Two paths lead on a loop of trees decorated by local garden clubs. Holiday music and food. A train ride for kids. And, of course, the indoor gardens themselves. Ruth Gras-Kemper is from Seven Hills.

"I made a special trip to see the Christmas decorations. And I've been to Costa Rica and I love that country, and it's just like this. Full of greenery and flowers, and this is a remarkable establishment."

Marian Kresel of Shaker Heights has visited for many years.

"It seems as if they have more things this year. But it's decorated beautifully and just coming to see the flowers is worth it."

KB: "It's different from the standard tree-and-ornament Christmas display you might see, say, at the mall, right?

Kresel: "They did an especially good job this year with all the floral displays. And all the extra lights. And the music. They even have Christmas carols, so that's nice."

For the first time, an electric train is taking children on a short ride through the outdoor gardens. "Engineer" Sharon Morton describes the route of the Garden Express.

"It goes down around through the Children's Garden, which we've decorated as the Peppermint Garden. We've got trees that look like they're growing mints… Gingerbreadmen that are lit up. The trees are lit up… and at night it's just beautiful."

The garden has extended hours tonight and Friday until 9 p.m., giving visitors an extra chance to see the more than 100,000 twinkling lights on display.
---
---
---
Stories with Recent Comments