Loading...


Economy and Business



Thursday, January 3, 2013




Crowdfunding for the future




Online fundraising for everything from tech gadgets to book stores, like the Learned Owl in Hudson


by WKSU's KABIR BHATIA


Reporter
Kabir Bhatia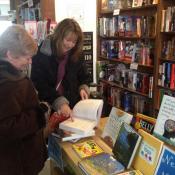 Hudsonite Joanne Knox (right) is a frequent Learned Owl shopper; her sister, Jennifer, always visits when in town from New York. The 45-year-old store is for sale, and a long-time employee is trying to raise funds online to buy the Owl.
Courtesy of Carl Carlson
Download (WKSU Only)
In The Region:
Crowdfunding is gaining as a way to get seed money, usually for budding business people with innovative tech products. But as WKSU's Kabir Bhatia reports, one old-school Northeast Ohio business is using it to write the next chapter in its 45-year history.
Entrepreneurs have gone online to raise money for everything from iPhone accessories to art projects to mission trips. Capital is harder to find today than it was before the 2008 financial meltdown. And that's why Kate Schlademan is on Indie-gogo. She's trying to raise $50,000 for a down payment on The Learned Owl book store in Hudson.

"I actually have 10 years of book-store experience. I did seven years at Border's, which really helped get me going in running and managing a book shop. I've done the last two years at the Learned Owl with Liz. And she's been extremely helpful in teaching me the indie route."

Schlademan reminds current owner, Liz Murphy, of herself when she bought the store in 1983.

"She's been dying to book store ever since I announced it. I had never thought of it before that moment. Unlike Kate who has wanted to own a bookstore for a long time."

Changing times
Murphy estimates that greater Cleveland had about 35 independent book stores when she started. A quick search online reveals fewer than that in the whole state today. And chains, like B. Dalton, WaldenBooks and Border's are long gone. Schlademan acknowledges the challenge of e-books and Amazon, but thinks she has an advantage.

"I guess with Border's, one of the big problems they had was they tried to expand too quickly. And then they couldn't draw back quickly enough. So I think, with us being one shop, we have the stability that the larger companies don't have."

Moving fast
Quickly adapting to sell Kindles or spotlighting up-and-coming authors has helped the Learned Owl distinguish itself in Northeast Ohio. A challenge for many online-funded tycoons has been delivering a product. For example, a campaign might raise money to mass-produce a better iPad charger. Early investors are promised one of the first units off the assembly line. But in the case of the Learned Owl, there's no commodity exchanged; it's all donations.

Sherwood Neiss, a principal at Crowdfund Capital Advisors in Florida, says that's not necessarily a bad thing.

"You've got a lot of Main Street business that can't qualify for traditional financing. So what this form of crowd funding does is create a new asset class, which allows people to invest in startups and small businesses in their communities, and they'll have a vested interest in their success. So it's a great way to get the capital going where Wall Street and Washington have really stepped out."

JOBS
Neiss is referring to the Jumpstart Our Business Start-Ups, or JOBS, Act. The federal law passed in April and legitimizes campaigns like the one for the Learned Owl in the eyes of more serious investors. It updated Depression-era laws that were designed to protect people from get-rich-quick hucksters.

That allows investors to come together on SEC-registered websites, vet an entrepreneur and business plan, and then essentially become a shareholder in the new entity.

Schlademan can offer premiums ranging from bumper stickers to naming rights inside the store, but says, "Unfortunately, the book business is a stable business, however it is not a very lucrative business. So stock options aren't necessarily a viable option."

The Owl has thrived in Hudson partially through the efforts of Murphy, who is also head of the Downtown Merchants' Association. She'll continue in that role after the sale. As of today, the Indie-gogo campaign needs about 700 people to contribute $50 each before the deadline a week from Saturday.
---
---
---
Stories with Recent Comments