Loading...


Arts and Entertainment



Friday, January 4, 2013




A fashion trip through time




CMA's "Wari: Lords of the Ancient Andes" closing with "Project Tunic" fashion show


by WKSU's KABIR BHATIA


Reporter
Kabir Bhatia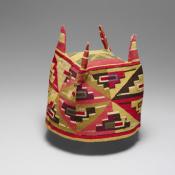 Four-Cornered Hat. 7th-9th century. Peru, Wari culture. Camelid hair, cotton; overall: 22 1/2 x 7 in. (57.15 x 17.78 cm) Other: 22 1/2 in. (57.15 cm). Gift of George D. Pratt, 1933 (33.149.101).
Courtesy of Cleveland Museum of Art
Download (WKSU Only)
In The Region:
The Cleveland Museum of Art is hosting a fashion show tonight (Friday), with apparel inspired by an ancient Peruvian empire. WKSU's Kabir Bhatia reports on "Project Tunic," tied to a museum exhibit that closes this weekend.
The Cleveland Museum of Art's Bethany Corriveau marvels at the pieces in "Wari: Lords of the Ancient Andes." The 1500-year-old aristocratic garments are shaped like large, square curtains, stretching 4 feet but not being that heavy because they're made of cotton.

"There's two panels and they're sewn together down the center with a slit in the middle which you'd put your head through. It's broken down into these very geometric shapes. You see a lot of rectangles. Straight lines. And there's a lot of bright colors. This one, particularly, you can see this brilliant red set off by these terracotta earthtones. Browns and tans."

Modern antiquities
To Corriveau, the tunics look modern enough to be upstairs in the contemporary galleries. That's part of the reason for "Project Tunic," which highlights 17 local fashionistas and their designs, inspired by the Wari exhibit.

"I think you see a lot of this kind of thing coming up in fashion. I think what a lot of the designers did was they came in and picked out an aspect of some of the works of art that they were attracted to. Many of the artists also were really interested in the colors. In particular this deep red you see on a lot of the different tunics."

Emerging history
The Pre-Incan Wari Empire was once thought to have been part of the neighboring Tiwanakus, who lived nearby in Peru. They've been established as two separate tribes only recently, and this is the first exhibit of its kind in North America. The 150 pieces come from collections all over the world. Some were discovered in ancient tombs, and they predate the more well-known Inca by about 1000 years.

"The tunics are such a big part of this exhibition and of the Wari culture, they're really beautiful artifacts so we really wanted to figure out a way to help people appreciate them."

Happy Hour
The "Project Runway"-style event is part of a series of mixers the museum hosts the first Friday of each month. Along with a happy hour and the judged fashion show, there will be "Turbo Talks": tours of other exhibits with two-minute lectures.

If you don't catch the new designs tonight between 5-9 p.m., three finalists will have their work displayed in the museum atrium later this month. But the Wari exhibit only runs through this Sunday.
---
---
---
Stories with Recent Comments