Loading...


Government and Politics



Wednesday, January 9, 2013




Cuyahoga County's real estate consultant says an unsuccessful bidders claims are off the mark on Ameritrust




County Council hearing both sides before making decision


by WKSU's KEVIN NIEDERMIER


Reporter
Kevin Niedermier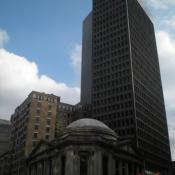 Cuyahoga County's Ameritrust complex in downtown Cleveland. County Council must decide if a developers bid is the best deal for the county. Another developer says its unsuccessful bid is better.
Courtesy of Kevin Niedermier
Download (WKSU Only)
In The Region:
The debate continues over which developer is offering Cuyahoga County the best deal on its Ameritrust property. Last month County Executive Ed FitzGerald recommended the property be sold to the Geis Companies. But another bidder claims he can save the county millions. County Council, which has the final say on the deal, Tuesday heard a rebuttal of that claim.
The Geis Companies has offered $27-million for the Ameritrust property and will build a new county headquarters on part of the space. Optima Ventures also bid on the property, but was not selected. Optima claims it's impractical to build a new county headquarters because there's so much excess office space in downtown Cleveland. Optima's deal includes putting the new headquarters in another building it owns. The company first offered $15-million for the Ameritrust property, but later raised that to $30-million. The county's real estate consultant told council that Optima's claim of a better deal is off by more than $40-million, primarily in its estimates of operating and parking costs. Councilman Jack Schron chairs the economic development and planning committee. He says the Optima bid gives council added context for making a decision on the Geis deal.

"At this point the Geis deal is what's on our agenda and any other points of view of developers who also presented proposals but weren't successful in getting the recommendation are merely background for out thought process on this particular recommendation."

Council will probably vote on the Geis deal at its January 22nd meeting. Last year the county put several properties up for sale, and in the next few weeks more potential buyers are expected to be announced.

---
---
---
Stories with Recent Comments