Loading...


Environment



Thursday, January 10, 2013




Car charging goes public and private




EV owners can get their juice at home, or soon from three new chargers in Cleveland


by WKSU's KABIR BHATIA


Reporter
Kabir Bhatia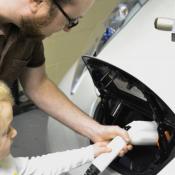 Ari Jay Comet and his daughter, Norah, juice up the Nissan Leaf from their home charger for the first time.
Courtesy of Robert Susteric
Download (WKSU Only)
In The Region:
Electric cars make up just 1 percent of the vehicles in this country, and there are only about three dozen on Northeast Ohio streets right now. A network of charging stations is still in its infancy, but as WKSU's Kabir Bhatia reports, electric vehicle owners are finding ways to make do.
"The Nissan Leaf has a tree that we can build. And if we use gasoline for the electric cars, it might hurt the tree."

Towheaded pixie Norah Comet, still a decade from her driver's license, is trying to explain her parents' new car. It's an all-electric Nissan Leaf, and last week the family had a charging station installed in their Beachwood home.

The wall-mounted box, the size of a backpack, has a protruding hose that can fully juice up their electric vehicle, or EV, overnight. Ari Jay and Beth Comet, Norah's parents, commute together each day, and a full battery can take them to work and back with room left for a few errands. They're leasing the $35,000 Leaf to replace Beth's Audi TT sports coupe.

"I'm at a stage in my life where I have a family and kid and practicality somewhat wins out. I'm sure at some point when I'm ready for my mid-life crisis in some number of years, I will have a sports car again. But my longing at this point has been modest at best.

"We kind of have to plan our day a little better. We go to work and back. That's roughly 20 miles. So we can't just get up and go like we could. And then we come home and we plug it right in."

Wall power
She's talking about a 120 volt wall outlet. Their new charging station streams twice that, which speeds up the process. It cost them about $1200, and is expected to add $20-30 to their monthly electric bill.

Cleveland Public Power announced last year that it would install three 240 volt units around the city: one at the Metroparks Zoo, one at the municipal parking lot near Burke Lakefront Airport, and one somewhere on the east side.

Unlike gas stations, where a fill-up can take minutes, these locations were chosen because cars often sit there for at least 4 hours, the time it takes to get a sizable charge. Delays in federal funding sidetracked the plan, but now the utility has budgeted $75,000 over three years for the units. That includes maintenance, construction and the chargers themselves.

Charging at home
But John O'Dell of automotive news website Edmunds.com says an infrastructure of chargers may not be necessary, since most EV drivers charge at home.

"They're gonna have a home charger and know the limits of the vehicle. And they're gonna buy it, because it fits their driving style. And they're not gonna need public charging. I live in Southern California. There are a lot of electric vehicles. Several of the shopping centers my wife likes to go to on weekends have EV chargers. Nowadays, almost every time we go unless we get up really early, somebody else is plugged in. And with only one plug or two plugs available, if there's three cars, then somebody's left out."

Both O'Dell and the Comets say any increase in their electric bills is more than offset by savings at the gas pump. Ari Comet says his home charger will pay for itself in about eight months.

The installation is as simple as putting in a small heater, according to electrician Kirt Omanski. He's a gearhead with an antique pickup truck. Even though this was his first charger install, he hopes it's not the last.

"I think this is the way everything's going to go. Just the way fuel prices are. I just think it's economical. I don't really know a whole lot about it, but I think a lot of people are going to start going this way."

Car guys
David and Ari are both "car guys," and Ari feels he's balancing his lifetime of speed with his new electric car. But he acknowledges that the technology is still evolving. For long trips, the family still has a gas-powered Volkswagen sedan, because a fully-charged Leaf is limited to about 90 miles in the summer and 70 in the winter. Just as with conventional car batteries, cold weather slows down the electrons inside. That's caused concern for potential buyers, but Edmunds' O'Dell says the old reliable block heater takes care of that problem.

Another major concern is long-term battery life. But O'Dell says the battery shouldn't start to diminish until the car is seven to 10 years old. Even then, capacity would only be down to about 75 percent.

"It still holds plenty of energy. And the idea is that these batteries are usable as stationary storage for hydroelectric dams. Wind plants. Geo-thermal and solar power. As well as for home backup systems. There's a lot of potential use for these expensive lithium ion packs."

Carbon footprint
Despite the Leaf's zero-emissions and the low cost of the home charger, the electricity coursing through the car still comes from a power plant – in Ohio, often powered by burning coal. But as Ari looks back at his driving past, and forward to daughter Norah's, he realizes everything is evolving.

"The car I learned to drive on didn't have ABS. It didn't even have power steering. I think of Norah, who will be driving and have her temps in 10 ½ years. What kind of car is she going to learn on? Is it going to be even a combustion engine? Is it even going to be the kind of car she'll have to drive? Or will she have a license to pilot an autonomous car and enter a navigation coordinate and sit back to do her homework while it's driving? Who knows?"

Ohio now has 71 public charging stations, according to non-profit CleanFuels Ohio. About two-thirds are clustered around Columbus or between Dayton and Cincinnati. Nineteen are around here, mostly at car dealerships. But the bid process is underway for the three new Cleveland chargers, and Cleveland Public Power says construction could start by this spring.
---
---
---
Stories with Recent Comments