Loading...


Ohio



Thursday, January 10, 2013




Any Democratic challenger will need big money and name recognition to unseat Gov. Kasich




With Strickland gone, Cuyahgoa County Executive FitzGerald is inching closer to a decision


by WKSU's KEVIN NIEDERMIER


Reporter
Kevin Niedermier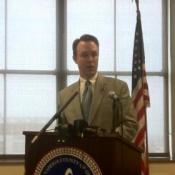 Democratic Cuyahoga County Executive Ed FitzGerald could announce a run for governor soon. He'll need a lot of money and name recognition to defeat Republican incumbent John Kasich.
Courtesy of Kevin Niedermier
Download (WKSU Only)
In The Region:
Cuyahoga County Executive Ed FitzGerald is sounding more like a Democratic candidate for governor in 2014. This week in Columbus, FitzGerald told a gathering of county Democratic party officials that he's serious about running, and will decide soon. The one-time suburban mayor's remarks followed former Ohio Gov. Ted Strickland's announcement that he's not running again. As WKSU's Kevin Niedermier reports, whoever tries to unseat Republican John Kasich, will need a lot of political experience and money.
Justin Bugler is a Case Western Reserve University political science professor. He says to defeat Governor Kasich, the Democratic candidate will need statewide name recognition, and a history of elected office, preferably at the state level. Bugler says both are especially important to the state party activists who raise campaign funds.

"Experienced candidates have a much easier time raising money. And if you're going to defeat an incumbent you need money. It's much more important for challengers. So anything that helps the challenger raise money will be particularly important."
Governor Kasich is expected to have a well-funded reelection campaign. Bugler says the governor will also have an advantage if he can convince voters that he's responsible for Ohio's recovering economy. Other possible Democratic contenders are former Akron-area Congresswoman Betty Sutton, and Youngstown Congressman Tim Ryan.
---
---
---
Stories with Recent Comments