Loading...


Education



Monday, January 14, 2013




Runaway success for young scientists




New type of shoe from North Canton Middle School team gets provisional patent, attention from Reebok


by WKSU's KABIR BHATIA


Reporter
Kabir Bhatia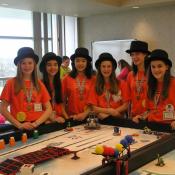 North Canton Middle Schoolers Ellie Plaster, Nicole Tysa, Emily Czubaj, Sylvia Cressman, Kate Lochridge, Caitlin Zollinger are giving science a run for its money with their new shoe design
Courtesy of Heidi Cressman
Download (WKSU Only)
In The Region:
Science, technology, engineering and math... they're called STEM for short, and educators want more students to get involved. WKSU's Kabir Bhatia reports on a group of Northeast Ohio middle school girls who've gotten involved enough to land a provisional patent.
The Big Brain Theory team has just won a challenge with its shoebox-sized Lego robot, Rodney. The six 6th- and 7th-graders from North Canton Middle School were at the First Lego League regional competition at the University of Akron over the weekend, one of two all-girl teams in the competition.

The event is designed to foster teamwork and engagement in STEM – Science, Technology, Engineering and Math – through the design and construction a robot, plus one non-Lego project. Ellie Plaster explains what she's learned in the past six months.

"You have to do some research and identify the problem that you'd like to solve. And then after that, we brainstormed. That's another step. And you come up with a variety of ideas. And from those ideas you choose what you'd like to do. And then we made our first prototype and it showed the sliding mechanism. And then we also made an improved prototype, which is our shoe today."

The other shoe
The shoe she's referring to is the other part of the competition. Along with demonstrating Rodney, the Big Brain Team also had to present a second project with a focus on senior citizens. Thus was born a shoe with a slide-able top and magnetic snaps that can be put on without having to sit, squat or bend over. Right now, the prototype is made of an athletic shoe with the lace area sliced away, and the top slides on a plastic track. It's all held together by hot glue, and Caitlin Zollinger describes the drawings the team filed for a provisional patent.

"This is the bottom view; the cap is underneath. This is the track right here. The track is what slides open and close. The magnets that snap into place. This is the shoe closed. This is the back; the heel. And it shows where the track fits in."

Reebok calling
That got the attention of an executive at Reebok, who advised the girls last week on what to do going forward.

"He told us about molds and how it's really expensive at first. It's a couple thousand dollars. But as you keep making your shoe, and making more molds, they get cheaper and cheaper. And he also talked about how most manufacturing plants are in the Pacific Rim, but there is a new balance one in Massachusetts."

That's fine for the future of the shoe, but First Lego League is trying to cultivate the Akron-Canton region's budding scientific talent into tomorrow's college engineering students. Ellie Plaster and Sylvia Cressman say that participating has given them a new appreciation for the scientific process.

Plaster: "I've always been interested in studying architecture or interior design. But I'd also do something like biomedical science."

KB: "Anything you learned about how to do research?"

Cressman: "How helpful it is to put stuff into graphs. We gave our grandparents this survey about our shoe. So we graphed it, positives and negatives, and grouped it."

Engineers wanted
She sounds like exactly the kind of person Sheila King is looking for. King was a rarity - a female engineer -- at her first job 25 years ago. Today, at Rockwell Automation in Cleveland, she sees first-hand the problem of recruiting college grads.

"There's so few engineers that they're being sucked up by the sunnier places. The bigger companies. So we have trouble trying to keep kids in Ohio."

King says the changing workforce could use a few of the Big Brain Team.

"The engineering field has gone more to collaboration and teamwork. Nobody works in a closet anymore. And women in particular are good in that capacity."

From here, eight teams advance to the state finals in Dayton. The North Canton team won't be joining them, but plans to refine the design of its shoe, make more prototypes and work on a business plan before the girls are eligible to file for a formal patent in a year.
---
---
---
Stories with Recent Comments