Ron's Workingman's Store just south of Canton's downtown was doing OK despite tough times. Ron Wilkoff, head of the family that also owns Wilkoff Industrial supply,had gambled in the early 2000s, reasoning that even if heavy manufacturing was dying, power lines still needed to be fixed, waste disposed of, and infrastructure maintained. He stocked up on "F.R.C." — flame-resistant clothing -- and similar gear for people in need of protective gear on the job.
Then came 2010, and Chesapeake Energy. The Utica shale play's biggest player opened its regional headquarters in Canton directly across the street from the store. And things got better than OK. So much better, in fact, that Ron Wilkoff's son Tyler, who runs the retail business, hired Chad Mace and bought a tripped-out truck.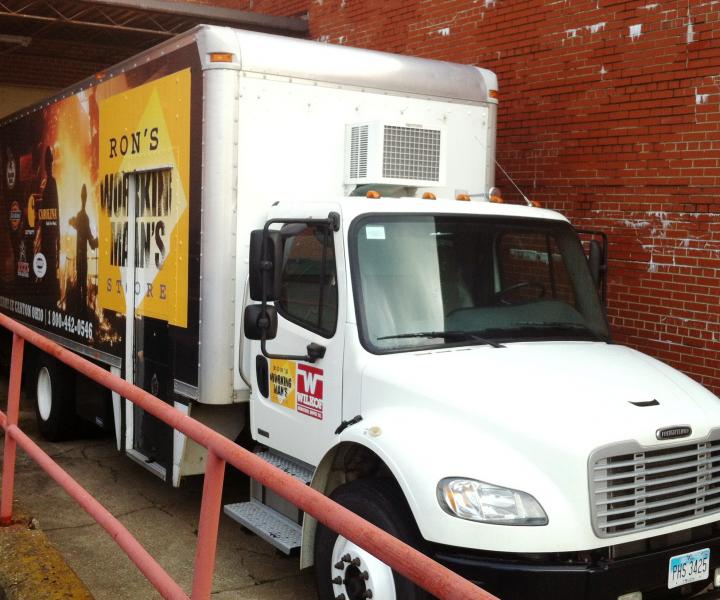 "And we've launched Ron's Workingman's Store mobile, which is a 30 foot long Freightliner,completely self-contained," Tyler Wilkoff says. "It is literally a heated and air conditioned mobile store."

Adds salesman Mace, "This is kind of a fist run venture. Nobody else is running a full mobile store. There are boot trucks out there, but what we're trying to cover the whole vast majority of what these guys need and want."
Top-of-the-line is a relative thing
What they need and want is high end -- not in terms of fancy, but in terms of function. And it is not cheap. As a clerk in the store marks new inventory, Tyler Wilkoff explains, "I would say if you went and purchased just a very nice coverall from a company like Dickies, they'd be about $30. These would probably be about a $129 or so.
These days, the store's hunt for workingmen is going further afield, taking the business literally to Columbiana, Carroll and other key areas of the shale drilling boom.
Not too much
Chad Mace is readying the truck for a run to a site in Carroll County. Even with a large vehicle outfitted with store racks, an electronic cash register, and an internet ordering system, he has to gauge just what, and how much, to bring to different kinds of job sites.


"These specific guys actually asked for slush boots, FRC rain suits. Most people will let us know what they need. That's what we'll bring. But I'm bringing some extra boots along and a variety of other things, so that they'll have an idea of what we have."
As Chad Mace fires up the big white truck with billboards touting the wares of the store, Tyler Wilkoff talks about possibilities.

"I've seen out there that there are food deliver services, some people even come out and do laundry for these men. The live-in big trailers (are) dropped at the site, so they really are living out in the woods. I thinks there more opportunity for small businessmen like ourselves."
Wilkoff says the gas and oil boom has already helped his family's small business go from six employees to 10.