From smallpox to HPV
The idea of inoculation dates back to the 1500's in China, where healthy people, given a dose of small pox, contracted a mild case of the disease and gained lifelong immunity. In 18th century England, Edward Jenner's experiments fighting small pox with inoculations of cow pox led to the science of immunology.
The 20th century saw vaccines developed for diphtheria, pertussis, tetanus, polio, mumps, rubella, and hepatitis. The human papillomavirus vaccine to fight cervical cancer came out three years ago.
But Ken Rosenthal, an immunology researcher at the Northeast Ohio Medical University, says producing new vaccines is an increasingly uphill battle.
"It takes a billion dollars to take a vaccine like that to market."

A great LEAPS forward
Testing is expensive and time consuming. A vaccine must be proven safe. It has to work on enough people to be effective. And inoculations only protect against a few types of infections.
But Rosenthal says new discoveries in immunology are allowing his team at NEOMED to develop vaccines that someday could prevent a new range of diseases.
"This vaccine is for Herpes simplex virus," Rosenthal says as he rummages around in a freezer in his lab. "And another one here is for the breast cancer vaccine; we also have one for HIV in this freezer, and we have the rheumatoid arthritis one in there as well."
Unlike traditional vaccines, these new vaccines trigger the immune response without introducing the disease. They work through an alternative approach he calls LEAPS.
"Ligand Epitope Antigen Presentation System - when you're from Akron you make acronyms."
LEAPS, he says, fights infections by re-programming the cells that orchestrate the body's immune response.
"These vaccines will trigger the development of a very important white blood cell, so that it becomes the optimal white blood cell to initiate and direct the subsequent immune responses. It's called the dendritic cell."
Controlling the immune response
Dendritic cells hang out in parts of your body where infections can start, like blood vessels in your skin, lungs, or lymph glands. When a virus or a foreign cell part floats by, the dendritic cells decide whether to initiate an attack, or let it pass. Rosenthal say LEAPS allows him to control that process.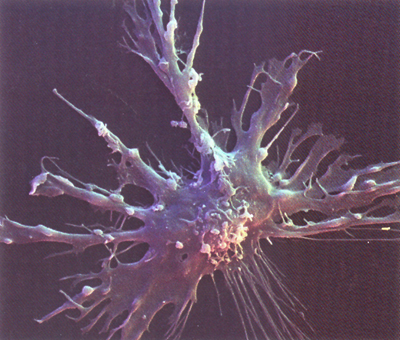 "So we create the dendritic cells that direct the immune response properly, and they do it."
The dendritic cell's weapon of choice is the immune system's highly adaptable and effective T-cell.
"If you can get the dendritic cells in the right form, they will direct the T-cells of the person to do the job."
The LEAPS vaccine creates immunity at the top of the immune cascade, without infecting the person, or causing inflammation.
Instead of creating antibodies for every possible mutation of a virus, the LEAPS vaccine teaches T-cells to recognize broad types of invaders.
T-cells can also be programmed to destroy harmful tissue disguised as our own self, like tumor cells,
"and then not only attack from different sides of the tumor cell, but also work in different kinds of people who may recognize different parts of a protein because of their particular immune system."
Keeping the balance in the body
Back in his lab, Rosenthal says the immune system is not just an army ready to attack; it's a balance we maintain. And every person is different.
"To be healthy we have to have a balance between the inflammatory and the repair mechanisms in the body. In some people, the balance favors inflammation and for some people it favors repair."
He says by helping the body achieve a healthy balance of immune responses, his new vaccines can not only prevent, but even treat ,auto-immune diseases like rheumatoid arthritis.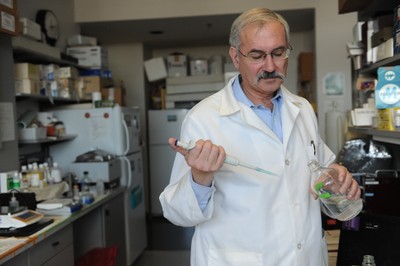 Still, only one LEAPS vaccine, for Herpes Simplex virus, is being commercially developed through a Virginia-based company called CEL –SCI, which has licensed the technology.

Rosenthal says his work represents what's possible rather than what's likely, at least for now.

"It's still pie in the sky, something we're looking for, aspiring toward but we're not there yet."

He won't even hazard a guess on when the new vaccines could reach clinical trials, or where the billion dollars to complete the testing could come from.