Loading...


Economy and Business



Thursday, January 17, 2013




Cleveland's RTA tests one of the first hydrogen buses




Passengers riding in experimental vehicle that emits water vapor instead of diesel smoke


by WKSU's KEVIN NIEDERMIER


Reporter
Kevin Niedermier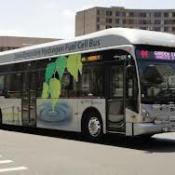 This experimental hydrogen-powered bus is in operation in Cleveland. R.T.A., along with NASA, is gathering data on the vehicle to help its designer find ways to make it feasible.
Courtesy of U.T.C.
Download (WKSU Only)
In The Region:
A potential public transit vehicle of the future is on the road today in Cleveland.
The Greater Cleveland Regional Transit Authority has started hauling passengers in an experimental hydrogen-powered bus. Unlike the diesel powered buses RTA and other transit agencies use, the only emissions from the hydrogen bus are water vapors.
The bus was designed and built by United Technologies Corp., a Vermont-based fuel-cell maker. RTA spokeswoman Mary Shaffer says the several months-long experiment will help the company with future designs.
"We can tell them about the energy efficiency and how it does in stop-and-go driving. This will give them valuable data so they can start designing a hydrogen bus that is affordable for mass-transit agencies."
The experimental bus cost about $2 million, while the typical diesel bus costs about half a million. NASA Glenn is supplying the hydrogen refueling equipment. The project is partly supported by the Federal Transit Administration, which is gauging the practicality of hydrogen-powered buses.
---
---
---
Stories with Recent Comments