Loading...


Economy and Business



Monday, January 21, 2013




Cuyahoga council may vote this week on selling the Ameritrust complex




The county's long-time white elephant may go to a private developer


by WKSU's KEVIN NIEDERMIER


Reporter
Kevin Niedermier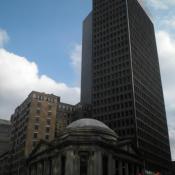 Approval to sell Cuyahoga County's Ameritrust complex could come this week.
Courtesy of Kevin Niedermier
Download (WKSU Only)
In The Region:
A decision could come this week on the deal to sell Cuyahoga County's Ameritrust complex to a private developer.

County Executive Ed FitzGerald has recommended the property go to the Geis Companies for $27 million. County Council must approve the sale, and a vote could come at its meeting Tuesday.

The plan includes building a new county administration building on the site. Council President C. Ellen Connelly is a former judge, and says she'll miss the site of the old administration building.
"I've spent my entire career here at Lakeside and Ontario, and I've worked at the courthouse, Justice Center and now the county's administration building. I've always wanted to stay in this area, but after I saw the proposal and the prospect of rebuilding in that part of downtown, I was very pleased with it."
If the sale is approved, Connelly says council also will be involved in decisions to renovate the historic Ameritrust rotunda into a public space. The county has put a dozen other excess properties up for sale to cut operating costs.
---
---
---
Stories with Recent Comments