Loading...


Economy and Business



Tuesday, January 22, 2013




Ohio's housing market rebounds in 2012




Nearly 115,000 homes were sold in Ohio last year, the highest number since the start of the recession




by WKSU's OZIE IKUENOBE


Reporter
Ozie Ikuenobe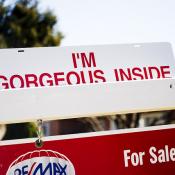 Housing sales continued to rise in 2012 and realtors are feeling confident the trend will continue.
Download (WKSU Only)
Ohio's housing sector is showing signs of improvement. The Ohio Association of Realtors reports a 13-percent bump in home sales statewide last year. Northeast Ohio saw a slightly higher increase with more than 37,000 homes sold in 2012. Thomas Williams, president of the Ohio Association of Realtors, says the widespread improvements show the market is finally recovering.
"We have had these increases for 18 straight months. I realize that things were very distressed and down, but since that period of time, we're seeing a very nice rebound. We have 20 different markets that we track in Ohio and 17 of them showed positive increases in the last 18 straight months."
Williams predicts current home sales will continue last year's positive trend.
A survey of Ohio real estate professionals shows increasing confidence the market will stay strong. Ninety-eight percent of Realtors believe home prices will remain stable or even rise slightly in 2013.
---
---
---
Stories with Recent Comments