Loading...


Economy and Business



Tuesday, January 22, 2013




Cuyahoga County Council approves the Ameritrust sale




The Geis Companies will redevelop the county's controversial property


by WKSU's KEVIN NIEDERMIER


Reporter
Kevin Niedermier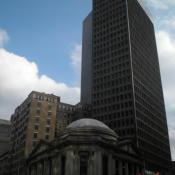 Cuyahoga County Council has given final approval for the Geis Companies to buy the Ameritrust complex.
Courtesy of Kevin Niedermier
Download (WKSU Only)
In The Region:
Cuyahoga County will no longer own the Ameritrust complex. Tuesday, County Council approved a deal to sell the buildings to the Geis Companies. The sale means Cuyahoga is now beyond a bad business decision from the past.
County Council unanimously approved the $27 million deal hammered out by county Executive Ed FitzGerald's administration and a group of real estate consultants. After vetting several other bids, FitzGerald recommended the deal with Geis to council, which has the final say.

Geis will convert the downtown Cleveland office tower into apartments and turn the historic 80-year-old bank rotunda into a mixed-use public space. The company also will tear down another section to make space for a new county administration building, which Geis will lease to the county for 26 years. After that period, the county will have the option of buying it for $1.

County Councilman Dan Brady says awarding the property to Geis was not taken for granted.

"We had 11 different people with at least 11 different points of view and this is not something we came to easily or quickly. As we worked through the issues we came to a consensus."

Cuyahoga County's three former commissioners bought the Ameritrust complex in 2005 for a more than $20 million, and spent another $20 million for asbestos removal and other work. The plan was to convert part of it into a new county administration building, but the county never occupied the building.

The sale is part of the county's effort to sell about a dozen unused and inefficient properties. More bids are expected to be announced next month.
---
---
---
Stories with Recent Comments