Loading...


Government and Politics



Wednesday, January 23, 2013




Cuyahoga's new elections chief plans to build on improved system




Pat McDonald proposes some changes to poll worker training and polling locations


by WKSU's KEVIN NIEDERMIER


Reporter
Kevin Niedermier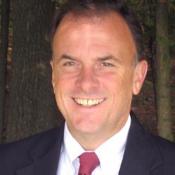 Former Cuyahoga County Board of Elections Deputy Director Pat McDonald has been promoted to Director.
Courtesy of Cuyahoga County
Download (WKSU Only)
In The Region:
Cuyahoga County's new elections director will expand on his predecessor's foundation, and push for some election-day improvements. This week, the elections board promoted former Deputy Director Pat McDonald to replace Jane Platten.

Pat McDonald has served as interim director since Jane Platten left the position last month to work for the county prosecutor. Platten is credited with turning around the once-troubled elections board, and McDonald says he will work to improve the systems and processes now in place.

One area of concern is poll worker training. McDonald says most of the county's thousands of poll workers are on the job only one or two days a year. And, they only have a six-hour training session before each election. He says that is not enough time to keep the workers up to date on the constant changes in election law.

"What I envision is partnering with our community stakeholders to get more poll workers released from their jobs to attend quarterly training. And, I want to provide a website they can go on to get additional information throughout the year, not just prior to an election."

McDonald also wants to change some polling locations to reduce election-day lines. The board, consisting of two Democrats and two Republicans, unanimously chose McDonald, a Republican, from a list of 12 candidates. McDonald's Republican background caused some concern among Democrats who feel he is too connected to some GOP office holders.

---
---
---
Stories with Recent Comments