Loading...


Arts and Entertainment



Friday, January 25, 2013




Cleveland Museum of Art is ready for iPads as part exhibit, part tour guide




Gallery One crosses eras and cultures to make the museum interactive


by WKSU's KABIR BHATIA


Reporter
Kabir Bhatia
In The Region:
The Cleveland Museum of Art's newest exhibit, Gallery One, is a mix of genres and eras. But WKSU's Kabir Bhatia reports it's also a big step toward making the museum interactive.
As visitors enter the museum, the softly lit, glass-enclosed area invites them with a billboard-sized video display on one side and a hip kids' area on the other. Gallery One could be the new departure lounge for the Cleveland Museum of Art.

iPad invasion
That's because about 55 percent of the museum's users own iPads, which can now be used as electronic docents. The gallery is designed around an app called ArtLens. IT Director Jane Alexander loves demonstrating the 40-foot touch screen that displays more than 3,500 works from the museum's permanent collection. Docking an iPad allows visitors to self-curate a route through the museum.

"You see what objects are on the tour. (For example), these are the four objects. It shows you that two are on the second floor, these are on the first. You push 'Find Me.' It will walk you over. So after you've explored on the wall, you have all your favorite objects right here. You then can either share it to Facebook or Twitter."

Brilliant walls
The MicroTile wall she is describing is so cutting edge, the technical crew had to design the exhibit around a prototype, hoping that the production model would be ready in time for the gallery opening.

"I've worked in science museums and when you go to those big visual walls, they're kind of dull. Because they're projection. What's really cool about MicroTile is the brilliance. And because we have art objects, we had to do it in a way that it didn't make it look dingy or less exciting. We wanted to be more exciting."

Part of the excitement for art lovers is the app's built-in database of information. Pointing an iPad at a work of art will bring up related trivia,videos of a restoration or even a biography of the artist. But the app is not the only piece of new technology in Gallery One.

Striking a pose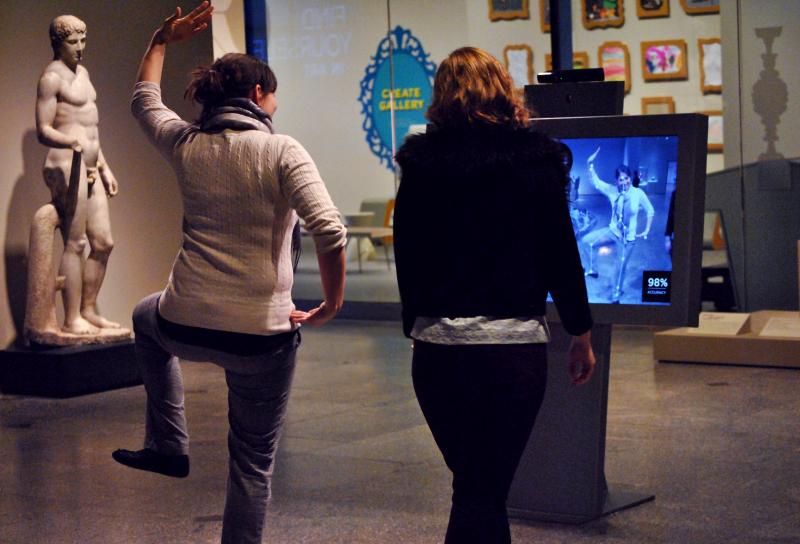 Director of Education Caroline Goeser demonstrates Sculpture Lens, a display armed with a camera.

"You can make a face and it takes your picture and matches your face to one of our works that is in the collection. So it's a fun way to get to know our collection and it will keep taking pictures. And then you can e-mail your photos to yourself or to someone else. It allows you to feel connected in a fun way to the works of art [and] explore things in a new way. People are going into the galleries now and standing in front of works of art and they're striking a pose that matches the work."

Art for kids
Elsewhere in Gallery One, a children's area features a mobile- and sculpture-building station.

"Families can ... create works of art together. And then families can put their works of art in frames, so they can have a work of art on the walls of the Cleveland Museum of Art."

The nearly $11 million gallery is the latest step in the museum expansion that began in 2005. Next up: making Gallery One accessible to smartphones.
---
---
---
Stories with Recent Comments