The restaurant at W. 140th and Madison Avenue is tiny with just a few tables and a pinball machine. But when the space
opened up, food truck owner Elvis Serrano couldn't pass up the chance.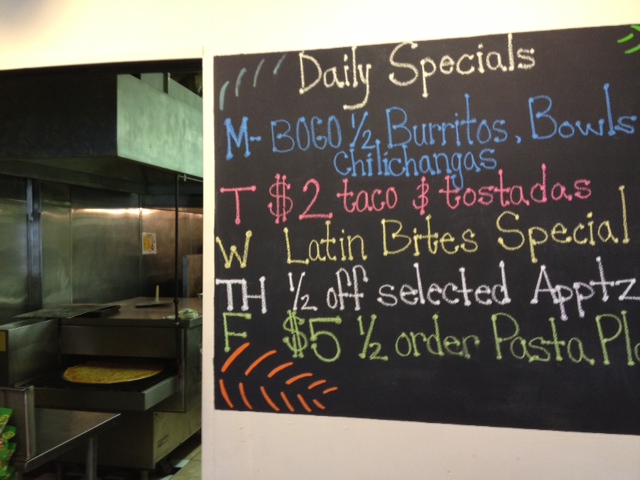 "We got to the point where we needed a location to grow our business. And it's not just our expansion of the food truck. Now we're dealing with pizza dough. We're tossing pizza around which is fun, playing around with different specialty doughs. Right now, we're doing pineapple dough."
Caribbean flavor embedded in the dough
Specialty pizza and calzones are a big new part of Serrano's business, with exotic fruits mixed into the thin crust.
"And it's not just going to be pineapple;we're going to do mango. Today, I'm going to play around with coconut, cream of coconut, and make dough out of it."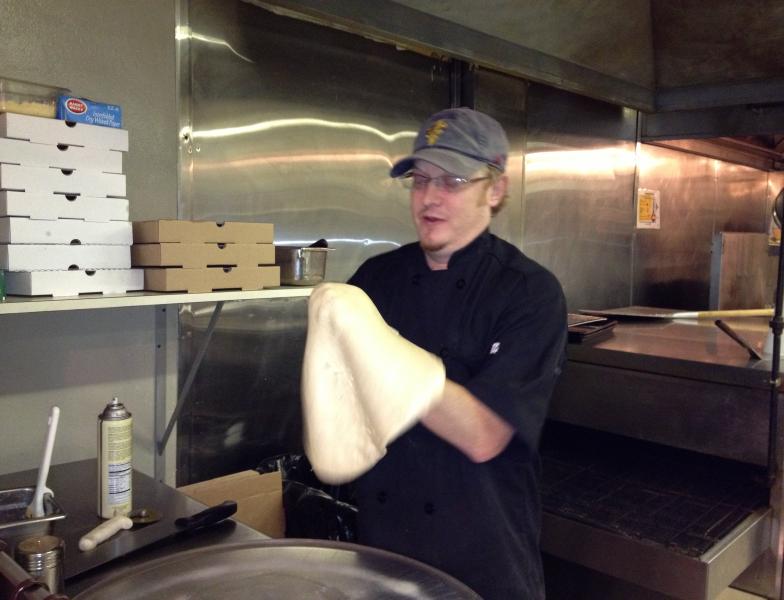 Serrano's assistant, Mark Ritchie, gave up a 20-year career in IT last summer to work with Serrano on the food truck and helped him open the restaurant in late November.
"It's just a much more enjoyable line of work. And it's a line of work that actually interests me. I actually care about the kind of food we're trying to create."
Competition includes a former workplace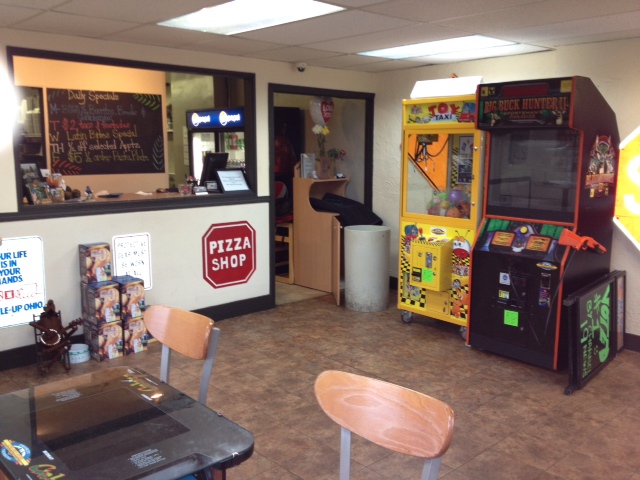 Jibaro Pit Stop Pizzeria faces competition. Serrano counts 17 pizza shops in Lakewood.
"Six months ago if you would have told me I would have ever had a pizza shop in Lakewood next to Angelo's, next to Nunzio's and a lot of the big players -- actually Player's is right down the street as well -- I would have been like, 'What's wrong with you?'"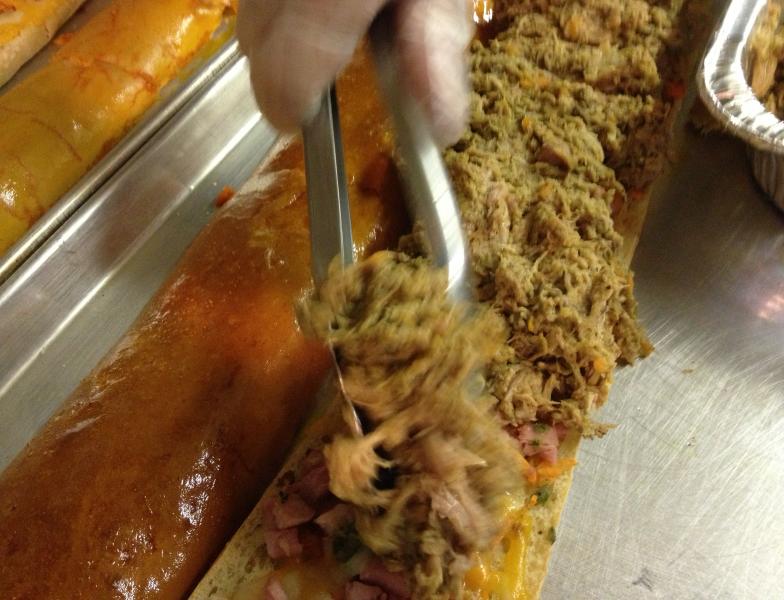 At Players, right down the street, Serrano used to wash dishes.
"My culinary training actually started when I was a little kid. In Puerto Rico as a 5-year old, I wasn't playing video games or playing on the internet. I was in a farm feeding the cows and pigs, helping my Grandma cook and I've always had a passion for it.
No degree but he does have 'the nose'
He says he might have enjoyed attending culinary school.
"But a lot of friends that are chefs have told me, 'You have the palate, the nose for it.' And that's really key."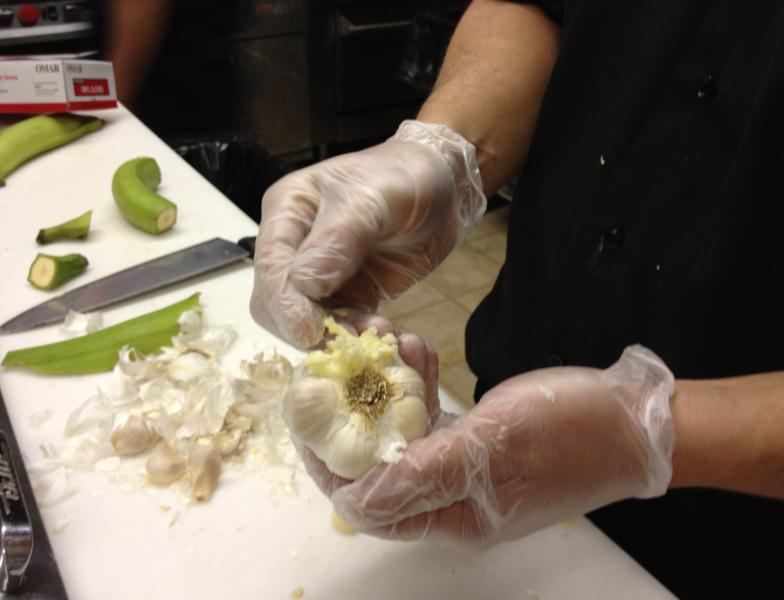 So is his passion for straight-from-the-ground food. "So we're going to grow our own tomatoes, our own organic greens, thyme, basil, oregano. ... right here in the backyard" in Lakewood.
Serrano came by that planting urge naturally, growing up in Puerto Rico.
"I was born on Aguas Buenas, which signifies good water. That's what it means. We were drinking water from the mountain streams. And cooking with it."
Mofongo also known as Mangoo
Serrano serves a Caribbean specialty called Mofongo at Jibaro Pit Stop, as well as chorizo chili, yucca, and other exotic offerings. His Caribbean specialty pizzas come topped with pork, jerk chicken, rock shrimp and even oven-roasted duck.
But Mofongo is Serrano's personal favorite. It's loaded with carrots, onions and beef, and flavored with red wine vinegar and steak seasoning. He uses only bottled spring water and the hardest plantains he can find.
"It's actually one of the top-selling dishes or something that's made in homes all across Puerto Rico, and it's very popular in the Dominican Republic. They call it Mangoo."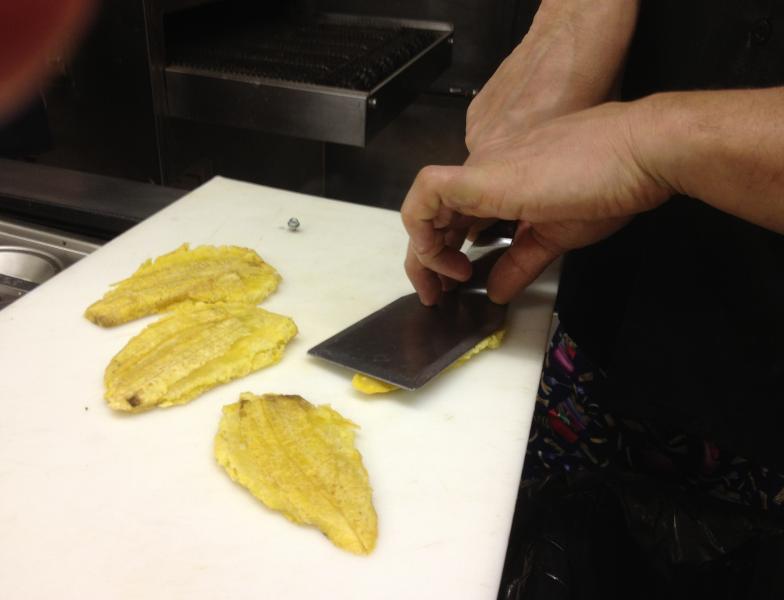 Proud of his culture and his restaurant's name
He calls his restaurant Jibaro because that's what he calls himself. It's a derogatory term to some Puerto Ricans, but Serrano likes the historical significance of Christopher Columbus having coined the term.
"He named Jibaro the indigenous Indians. Depending where you are, it does signify different things like a hillbilly. I'll be honest. But for me that's what it signifies, my family, my ancestors."
Jibaro's Pit Stop Pizzeria in Lakewood is open for lunch and dinner seven days a week.
And that's this week's Quick Bite. Next week we're headed to Akron for a food swap.