Loading...


Arts and Entertainment



Wednesday, January 30, 2013




Cleveland's historic West Side Market clean up begins




Fire closed the market today, but some stalls are to reopen tomorrow


by WKSU's KABIR BHATIA


and

JEFF ST. CLAIR



Reporter
Kabir Bhatia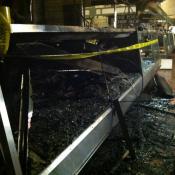 Andrei Romaso's stand, Sebastian's Meats, had been operating since the early 1990s. He bought it 11 years ago
Courtesy of Andrei Romaso
Download (WKSU Only)
In The Region:
The cause of the early morning fire at Cleveland's West Side Market has still not been determined. The Cleveland Fire Department says it appears accidental and crews are still investigating.

Andrei Romaso, who has owned Sebastian's Meats for 11 years, says "The longer I stay closed the harder it's going to be. If it's two weeks, it's manageable. But if it's going to be more than a month, I'm sure we'll lose some business. Just like anything, you stay closed [and] people will say, 'Okay, this happened, but we still have to eat, you know?'"

Romaso says he lost several thousand dollars' worth of meat and does not know when he'll be back in business.

The market is closed today, but the cafe and produce stands can open tomorrow. Karen Butler from the Cleveland Department of Health says other vendors will have to wait.
"We will require that all food contact surfaces be cleaned and sanitized thoroughly. We'll also require that all non-food contact surfaces, such as the sides of the stands, coolers, etc., also be thoroughly cleaned and sanitized. And as all of this is transpiring, the health department will give the final clearance as to whether or not everything has been satisfactorily performed."

Firefighters were on the scene around 2 a.m. and quickly contained the fire that broke out at Sebastian's Meat and spread next door to Foster's Meats.

No one was hurt and there was no structural damage. But there is extensive smoke damage in the 100-year-old building. The market is owned by the city and the Cleveland Public Works Department does not have estimates yet on when the entire market will reopen or the extent of damage.



---
---
---
Stories with Recent Comments