Loading...


Courts and Crime



Tuesday, February 5, 2013




DeWine says system failed Cleveland police




Officers fired nearly 140 shots at two unarmed Clevelanders




by WKSU's GRANT ENGLE


Reporter
Grant Engle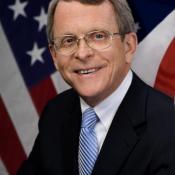 Ohio Attorney General Mike DeWine says the system Cleveland police officers followed during a high-speed pursuit in November failed them.
Courtesy of The Attorney General's Office
Download (WKSU Only)
In The Region:
Ohio Attorney General Mike DeWine says the shooting deaths of two people at the hands of the Cleveland police on Nov. 29 was because of a "lack of command." Timothy Russell and Malissa Williams led police on a high-speed chase through Cleveland after they were stopped for a turn signal violation.

When the two stopped behind an East Cleveland elementary school, police fired nearly 140 shots into the car. No weapons were found in the car with Russell and Williams, and investigators have found no evidence that they threw a weapon from their car during the pursuit. A report released by the attorney general's office says police may have mistaken the car backfiring for a gunshot and that officers were exchanging friendly fire during the course of the entire incident. DeWine says the officers in charge had inaccurate reports regarding whether or not the suspects were armed and how many police cars were involved in the chase.
"I think the system failed these officers. They were making tough calls. And as we say in the report, while the beliefs they had turned out to be wrong, you can understand how they believed that based on the totality of the information that was coming to them."
The county prosecutor's office will submit the report to a grand jury before determining if charges will be filed against any police officers.

Here is the link to the report by Attorney General Mike DeWine on the Nov. 29 chase and shooting:
www.OhioAttorneyGeneral.gov/BCIShootingReport
---
---
---
Stories with Recent Comments