Mike McDonald won the November election and was expected to succeed his boss, retiring Sheriff Tim Swanson. But that all changed a month ago, when McDonald announced his health had taken a turn and he would not be sworn in.
Three men then put in for the job and it was up to some 200 royal-blue Democrats at last night's Central Committee meeting to pick one of them.
Only,remember, joked one of those committee members, these are Democrats.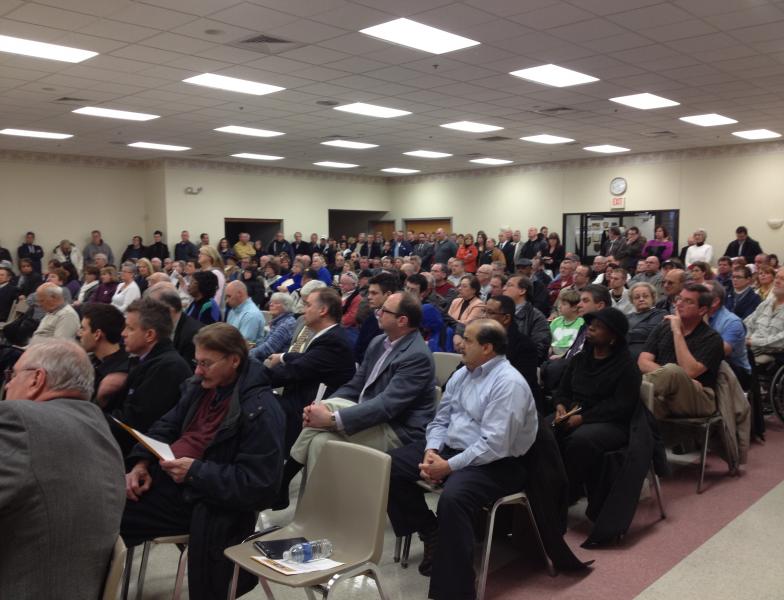 "We're doing what we do best as Democrats, and that is, to fight among ourselves."
And what a fight it's been.
Darrow vs. Maier vs. Ferrero vs. Maier
George Maier is Massillon's safety-service director and a former assistant director with the Ohio Department of Public Safety. He had the inside track with the backing of county Democratic Party Chairman Randy Gonzalez. But Lt. Louis Darrow, who's worked for the sheriff's department for 26 years, had the backing of Swanson and the county's prosecutor, John Ferrero – who has been feuding with Maier's brother, Massillon Clerk of Courts and western Stark County Democratic political force, Johnnie Maier.
Some of the fight played out at the 1 ½ hour meeting with questions about whether George Maier's education and experience meet Ohio's legal definition of supervisory experience required to be sheriff. George Maier says there should be no questions.
"I think they're off base, I've submitted everything to the courts; I've been very transparent with everybody about this. And as a matter of fact, I heard this (challenge) early on, and I hired my own attorney to give me an independent opinion so I wasn't heading down the wrong path, if you will."
Important questions, settled or not
Darrow supporter -- and assistant county prosecutor -- Fred Scott told the crowd the questions are necessary.
"The questions are being raised not out of animosity or spite or meanness toward the other candidate. They're simply being raised because this position is far too important, and what the sheriff does is far too important to have that sheriff's qualifications called into question."
But in the end, the questions apparently were settled to the satisfaction of 92 committee members, and George Maier edged Louis Darrow by eight votes.
Still, the fight may not be over. Darrow has sued raising the same questions with the Ohio Supreme Court about Maier's qualifications. And after the vote, Darrow indicated that suit may continue.
"I don't really know that right now. (I need to) just step back and take a look at the big picture and see what's most important, and (then) we'll make a decision."
One point of agreement
For his part, George Maier says he carries no grudges. "There'll be no hard feelings from me as far as working with the prosecutor. I look forward to working with the prosecutor. I think it's imperative that the county sheriff and his office work with the prosecutor. I don't think that would be a problem for me. I think that question would be better suited for the prosecutor."
Ferrero had said he was only raising questions because of the specter of Gary Zeigler, the former county treasurer who was booted out of office, sued, returned to office and then quit – with several other people appointed and elected to the office in between.
That whole process also involved a Democratic Central Committee appointment for Zeigler's successor – and it did the unthinkable then and picked a Republican.
Lighting didn't strike twice. The third candidate for the sheriff's appointment, Larry Dordea, is a Republican. He got one vote.