Growers, food producers, chefs, caterers, home cooks and do-it-your-selfers mingle monthly at Akron's Uncorked Wine Bar to swap pickled red onions for Asian greens, apple tarts for cured pork jowls, or maybe hot Italian peppers for Greek rice pudding.
You can bring whatever you want to swap as long as you grew, brewed, canned, cooked, raised, braised or baked it yourself.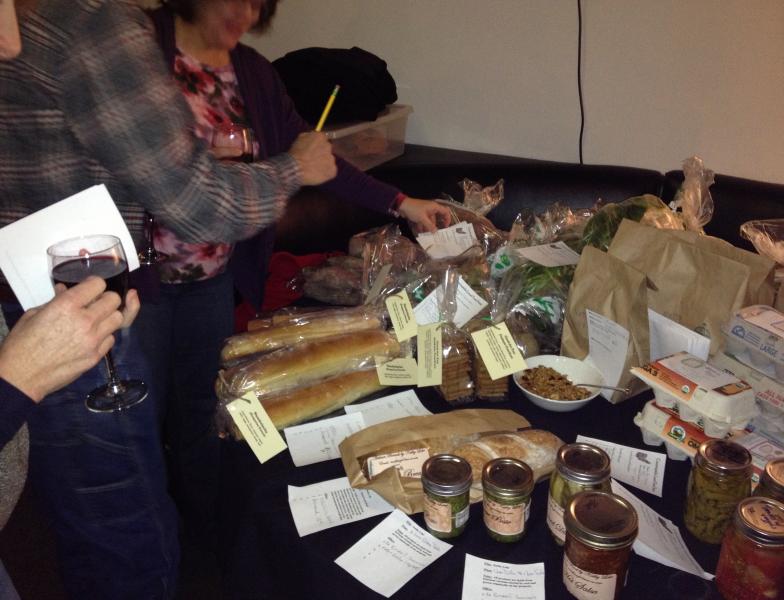 And no money changes hands.

Mingle, munch, and make a deal
Swappers proudly lay out their samples and browse and taste what others have to offer. They chat, share recipes, and place silent-auction bids.
Diamond Markum, a longtime farmer's market vendor, runs into old friends and customers while cultivating new ones.
"Tonight I brought Grecian rice pudding, risoglio. I hope I get the beautiful breads here, the rustic breads."
Beth Knorr manages the Countryside Conservancy's farmers markets at Akron's Highland Square, Howe Meadow and Old Trail School. She helped set up this first swap.
"Going into it, we estimated maybe 20 on a good day and we have around 40, 45 folks here. So, yeah, I would say it's a success."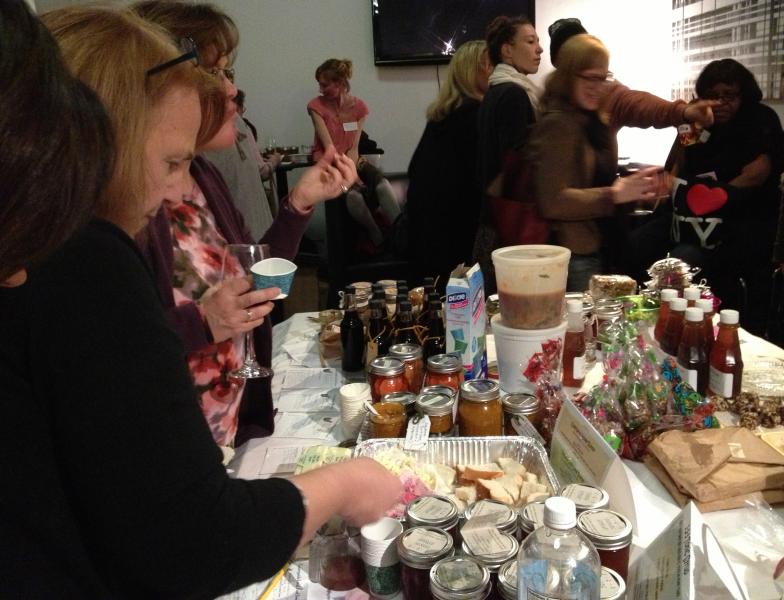 She says food swapping ties right in to the conservancy's mission to build community among growers, producers and shoppers.
"They have to know what to do with these raw agricultural products, and food swaps are just one way to foster enthusiastic cooking with local ingredients."

Idea born in Brooklyn takes off online
Sharing food is nothing new, but recurring community events like these to exchange homegrown, homemade or foraged food is a hot new trend. The Conservancy's Erin Molnar picked up on it in "The Hip Girl's Guide to Homemaking." The book's Brooklyn, N.Y.-based author now runs FoodSwapNetwork.com.
"Her name's Kate Kane, and she ended up with some extras in her kitchen. She posted it on Facebook and it evolved from there. So I had read about it, and when Countryside started talking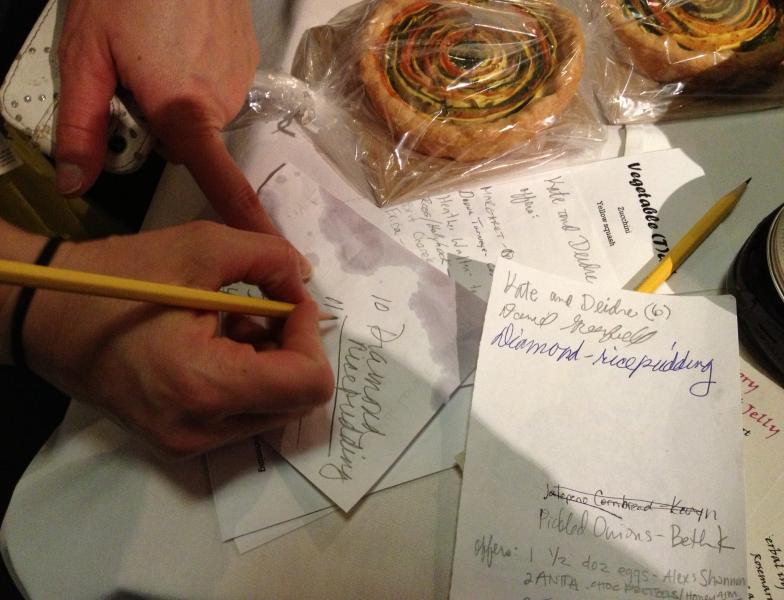 about doing it, I was like, 'absolutely.' I think it's a fantastic idea."
She brought one of her own creations to swap.
"I made bourbon brown sugar mustard. It's slightly sweet. It's got the bourbon and the brown sugar in there, but its super zesty and very mustardy. I think my apartment still smells like mustard."
Molnar is newly interested in craft cocktails and hopes to swap her mustard for homemade tonic and sweet vermouth.
Much of the food brought to the swap is artisanal, off-beat, even surprising, such as the cured pork jowl. But there's plenty of down-home traditional fare, too, like jams, jellies, scones and Michael Kauss's banana bread and sweet potato pie. He bakes at home in Akron and says he doesn't care what he swaps for. He just hopes people like what he brought.
"I don't know if the banana bread's going so well, but the sweet potato pie seems to be a winner."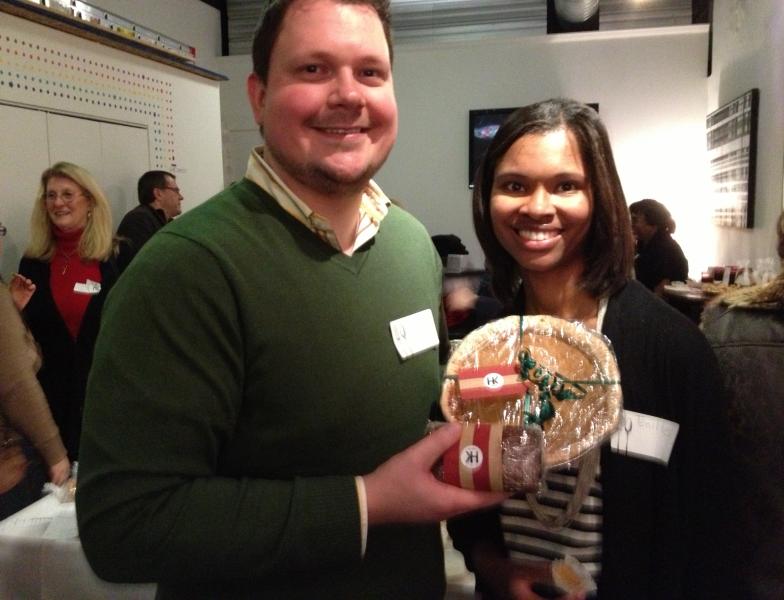 The last half-hour of the 2-hour event is a mad scramble of noisy negotiations.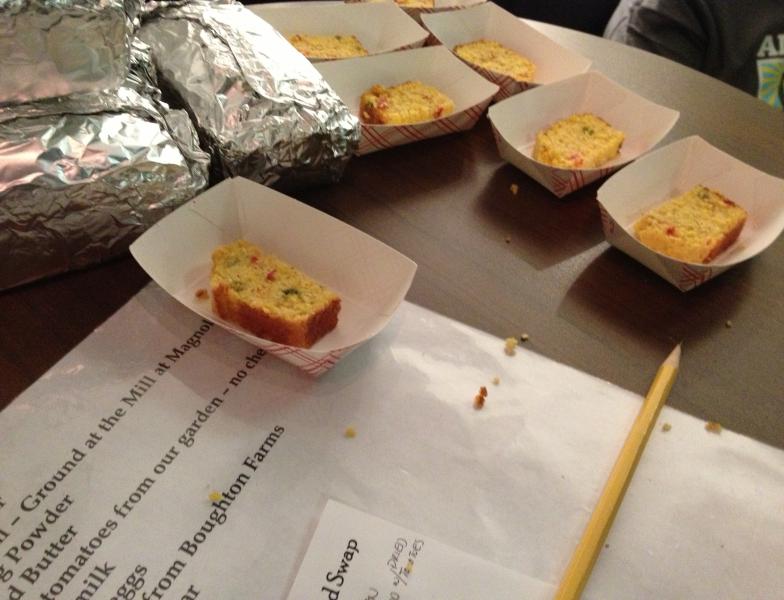 Akron caterer Ross Dilley brought breakfast nibbles to swap.
"Granola. Four-fruit marmalade with oranges, grapefruit, lemon, and clementine. Savory breakfast muffins with ham and cheese, and I also made some orange-cranberry bread."
In exchange, he hopes to snag one of artisanal baker Kathy Lehr's creations.
Eventually, they make a delicious deal.
Homegrown, homemade, and a homey alternative to the supermarket
It's not lost on growers at the swap like George Remington that the ingredients in these homegrown creations come from local farms. He brought greens, beets and sweet potatoes from his fields at Morningside Farm in Hinckley, and he's hankering to trade.
"There are a lot of breads and jams, and jellies and salsas. I want to fill the pantry."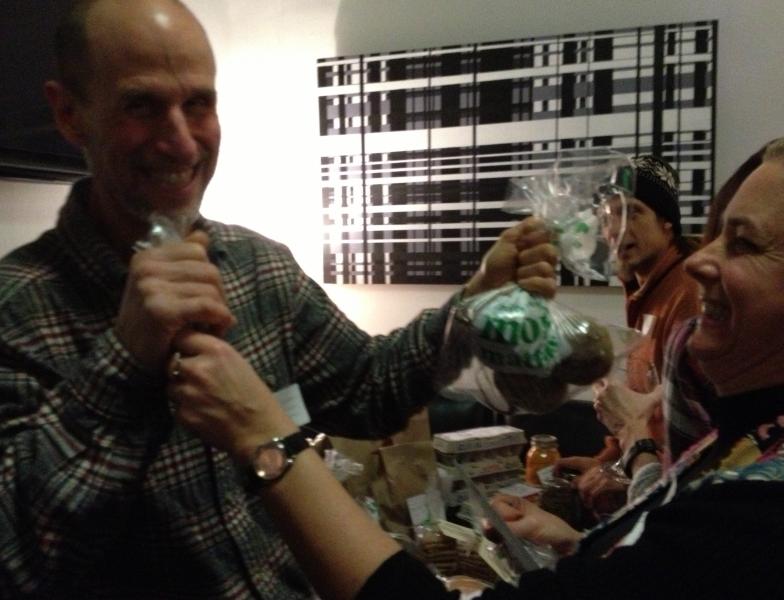 He's also enjoying a glass of wine and a chance to talk with some of his regular customers.
Remington sees swapping as part of a flourishing local-foods lifestyle.
"The corporatization of the planet is growing. What we're doing here is just the opposite. And it's humble. And it'll be here when all the corporatization is gone."
The next Countryside Conservancy food swap will be Tuesday night at downtown Akron's Uncorked Wine Bar and plans are to keep swapping on the third Tuesday of every month.
And that's this week's Quick Bite. Next week we'll sample a Picasso-inspired menu at the Cleveland Museum of Art.