Loading...


Social Issues



Thursday, February 7, 2013




Tobogganing in the MetroParks




Cleveland's snow chutes going strong after 45 seasons


by WKSU's KABIR BHATIA


Reporter
Kabir Bhatia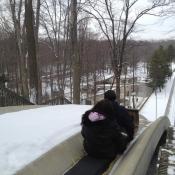 The Cleveland MetroParks toboggan chutes are in their 45th season. The metal lining of the tracks was recently removed so that ice can form and provide a smoother surface
Courtesy of K. Bhatia
Download (WKSU Only)
In The Region:
After a warm and nearly snow-less winter last year, tobogganers are hitting the slope in the Cleveland MetroParks. WKSU's Kabir Bhatia reports.
Most people try to avoid careening downhill in the winter. But there's one place where it's OK to go as fast as possible: the toboggan chutes in the Cleveland MetroParks. They're in Strongsville, just south of the intersection of I-71 and the Ohio Turnpike. Two simple concrete and metal tracks that look like God chiseled them in place among the trees and snow. What looks like a nearly vertical, 70 foot drop swoops into a straightaway during which tobogganers can try to react to what just happened.

"We don't have snow in Brazil, so it's new. It's awesome. We loved it."

"I'd say it's quite thrilling."

"Your stomach goes up a lot."

"Don't think about the chute. Think about having fun. And don't look."

"I liked it."

The chutes are little changed since they opened in 1967, except for some safety improvements such as removing the bumpy metal lining of the track. New this year is a lift for the toboggans themselves, so tired patrons don't have to carry the heavy sleds up 108 wooden steps. Management says that's making people less tired, so they're staying longer. The Goodman cousins – four tween girls from New Jersey who are visiting family – sound like they never want to leave.

"Petrifying! It was so scary but it was so much fun. I thought that was my last moment on Earth. It's an experience you'll never experience. A blast!"

The refrigeration system means the chutes can be used when temperatures hit as high as 60 degrees, rain or shine, though the best conditions are crisp, clear and cold.




---
---
---
Stories with Recent Comments