Loading...


Ohio



Thursday, February 7, 2013




Ohio may pursue criminal charges against a frac-waste company




The EPA tries to clean up while ODNR investigators continue a criminal investigation and the attorney general's office is called in


by WKSU's M.L. SCHULTZE


Web Editor
M.L. Schultze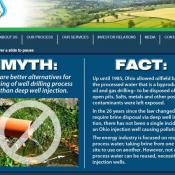 D&L Energy defends its use of injection wells on its Web site and questions state findings
Download (WKSU Only)
In The Region:
The state considering criminal and civil charges against two Youngstown companies that have had big – and controversial roles – in fracking. The Ohio Department of Natural Resources served notice last night that it is pulling operating permits for D&L Energy and Hardrock Excavating, and their owner Ben Lupo. The permits had allowed them to haul the chemical-laden waste from drilling sites and to dispose of it in the companies' deep wells. The department says it got an anonymous tip last week and then observed Hardrock employees dumping oilfield waste into a storm sewer that ends up in the Mahoning River. The Ohio EPA is using containment booms, absorbent pads and vacuum trucks to keep more of the brine-and-oil mix from flowing into streams, especially as snow and ice thaw this weekend. D&L ran into trouble last year after its disposal wells were suspected of triggering a series of earthquakes in Northeast Ohio. The company denies the connection. It's refused to comment on the latest action by the state, though it says it may issue a statement later.

Here's a summary of actions the ODNR says it's taken this week:
Ordered D&L Energy to cease all injection well operations in Ohio.
Revoked permits for six current injection wells.
Denied D&L Energy's applications for three new injection well permits.
Ordered D&L to stop running temporary storage operations at its location at 2761 Salt Springs Rd in Youngstown.
Revoked Hardrock Excavating's brine haulers permit, which allowed it to transport oilfield waste from drilling rigs to its facility.
Started a criminal investigation.
Asked the Ohio Attorney General initiate civil proceedings.
If someone pollutes waterways with industrial waste, they can be charged in Ohio with a misdemeanor that could result in a year in prison and a $25,000 fine.
Federal law for a "knowing violation" could mean a fine of $50,000 per day and three years in prison.
---
---
---
Stories with Recent Comments