Soon after President Obama called for tougher gun regulations in the wake of the elementary school shooting in Newtown, Conn., in December, state school board President and Tea Party activist Debe Terhar did what many people did – she posted on Facebook. But what she posted was a picture of Adolf Hitler with these words: "Never forget what this tyrant said, 'To conquer a nation, first disarm its citizens'." That set off a firestorm with Democrats, who said Terhar needed to apologize for what they say was a comparison of Obama to Hitler. And three weeks after she posted the picture, Terhar did.
"I fully realize the sensitivity of the issue at hand, and I was wrong to re-post something that could ever be perceived as insensitive by anyone."
Terhar said she apologized personally to members of the board, and that she asks forgiveness for a mistake that will never happen again. Some board members at the meeting expressed support, while others said Terhar should resign as board president, a job to which she was re-elected unanimously a week before the controversial post. Then a handful of members of the public commented, most calling for Terhar to step down. But charter schools advocate Ron Adler told board members that he was surprised and shocked about the situation.
Politics at work?
"I was taken aback when I read about all the e-mails and phone calls, and I don't think there's a person in this room that truly believes that this is not politically driven."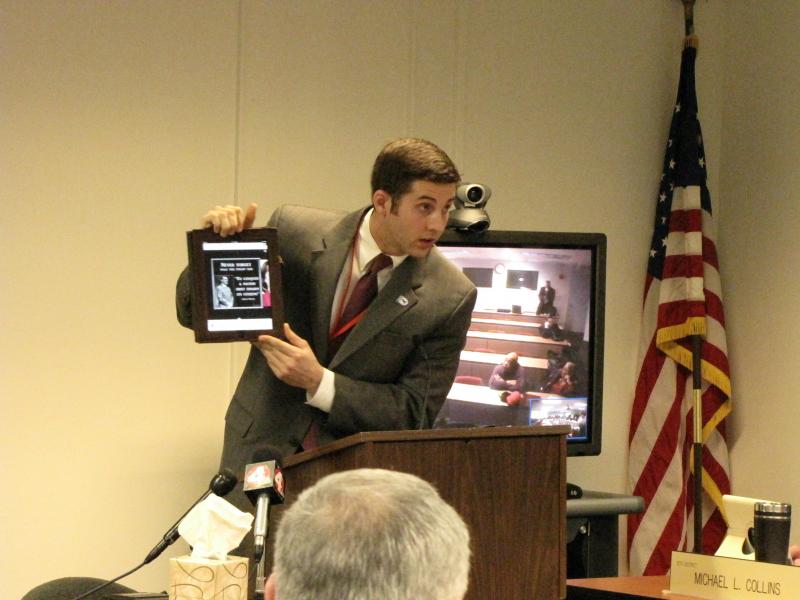 And Ohio Democratic Party spokesman Jerid Kurtz also addressed the board. Kurtz showed the board the original post on his tablet and demanded Terhar's resignation, saying her apology was "too little, too late." Kurtz also noted that his party had filed a lawsuit with the Ohio Supreme Court to force a release of Terhar's text messages and e-mails to board members after the posting.
More people take offense
"I'm here today to deliver a copy of the lawsuit upon President Terhar and Ms. Dove representing the governor's office. Thank you for the opportunity and I'm happy to take any questions."
Republican board member Jeff Hardin then challenged Kurtz.
"Mr. Kurtz, I take great personal offense to your comments today. I have received four e-mails from the Ohio Democratic Party asking for money because of this offensive action."
Board member Todd Jones, who had been appointed by Republican Gov. John Kasich, suggested the Democrats donate the money they raised to the Anti-Defamation League. Kurtz said he was unaware of what fundraising e-mails that went out or how much was raised.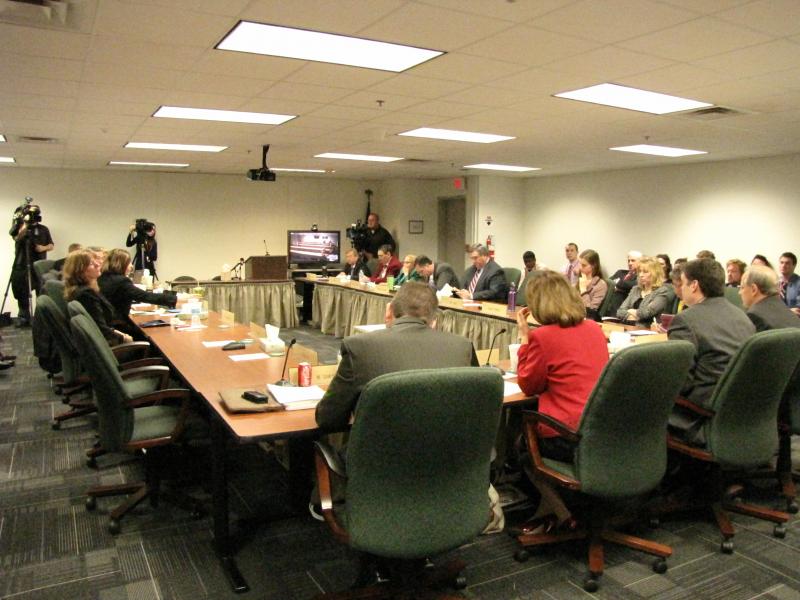 A motion was eventually made to remove Terhar as board president – it failed 10-6. Jones left before the vote, and two Republican state lawmakers weren't there for the meeting. But Jeff Hardin says one thing remains to be done – for the Democrats to apologize to Terhar for what he felt were untrue statements they made during the controversy.
'Buy a mirror'
"It's always pointing fingers at somebody else. Well, they ought to buy a mirror. They owe Mrs. Terhar an apology."
Board member Deborah Cain, a Democrat who offered the motion to remove Terhar as president, says now the board must come together.
"It's going to have to. We don't have much choice. We are going to need to move forward, because there is an awful lot of work that has been slated for the state board to do because of passed legislation. So we have to do it."
Meanwhile, the lawsuit filed by the Democratic Party continues, though Kurtz says there was a package of e-mails delivered to the party's office today. He says there was just one text in that package, and he says calls are being made to board members to find out if there are more from Terhar that weren't turned over.