Loading...



From WKYC.COM / TV 3
Get the latest school closings and delays


Funding for WKSU is made possible in part through support from the following businesses and organizations.
---
For more information on how your company or organization can support WKSU, download the WKSU Media Kit.

(WKSU Media Kit


)
---

Economy and Business



Tuesday, February 12, 2013




Cleveland's West Side Market will reopen Monday




Cause of the fire is still undetermined


by WKSU's M.L. SCHULTZE


Web Editor
M.L. Schultze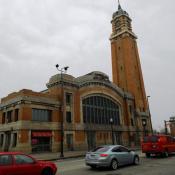 The historic market is expected to reopen Monday, nearly three weeks after fire closed it.
Courtesy of KEVIN NIEDERMIER
Download (WKSU Only)
In The Region:
The city of Cleveland has announced it will reopen the West Side Market Monday.
The indoor market has been closed since a fire broke out early the morning of Jan. 30. Though only two meat vendors' stalls were heavily damaged, smoke and soot spread throughout the building, and food had to be disposed of.
The city hired RestoreX MD to handle the cleanup, and structural engineers say the building is safe.
The Cleveland Fire Department says it still isn't sure of the cause.
---
---