Loading...


Government and Politics



Tuesday, February 12, 2013




Mayor apologizes for process




City will work with Stark Council of Governments on hiring a new crime lab director


by WKSU's TIM RUDELL


Reporter
Tim Rudell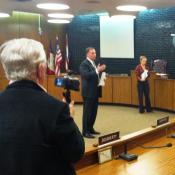 Canton Mayor William Healy II addresses the SCOG Executive Committee
Courtesy of TPR
Download (WKSU Only)
In The Region:
Within a week, Canton lowered the standards for director of the county-wide crime lab, hired a new director under those lower standards, asked for and got his resignation, hired an interim replacement, and apologized for the whole mess. WKSU's Tim Rudell has more on what went wrong with the crown jewel of one of the oldest regional government operations in the state.
Stark County's Council of Government funds the Canton-Stark County Crime Lab; but it is administered by the city. Last week, Canton hired a new director, retired Stark County Chief Sheriff's Deputy Rick Perez, but only after unilaterally lowering the standards so someone without forensic science training could fill the post. SCOG's Executive Committee balked, and some participating police agencies threatened to stop using the lab.

Monday, Mayor William Healy II asked for and got Perez's resignation, and Tuesday he went to the SCOG Executive Committee meeting to say the process went wrong. "We do apologize for the way this worked out, and the negative impact it had on the entire department and the entire County. And we're doing everything in our power to undo it, fix it, and bring back that credibility."

The Executive Committee and Healy then agreed to hire the crime lab's head of quality control Michele Foster as interim director while a new process is created and used to fill the job permanently.
---
---
---
Stories with Recent Comments