Loading...


Economy and Business



Thursday, February 14, 2013




Cleveland Ford plant's union vote could mean hundreds of new jobs




Contract approval will bring production of another fuel-efficient engine to the facility


by WKSU's KEVIN NIEDERMIER


Reporter
Kevin Niedermier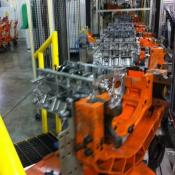 Ford EcoBoost engines on the Brook Park assembly line. If the local UAW approves a new contract, an additional type of engine will be made here, adding hundreds of new jobs.
Courtesy of Kevin Niedermier
Download (WKSU Only)
In The Region:
The United Auto Workers local at Cleveland's Ford Engine Plant will vote next week on a contract that could mean at least 800 new jobs. That would be good news at a facility that's been drastically downsized in recent years. As WKSU's Kevin Niedermier reports, if the members approve the contract, Ford will add production of smaller car engines to the plant.
More than 1000 workers now build Ford's 6-cylinder EcoBoost engine at the Brook Park facility. The national UAW and Ford have agreed to build 4-cylinder engines there if the local rank and file accepts the new contract. Union officials say the contract contains no concessions and will be good for members, and passage is expected. Michelle Krebs is an auto industry analyst with Edmunds.com. She says, after years of decline, the U.S. auto industry has rebounded, and all the companies are adding production of more fuel efficient cars. Krebs says fuel efficiency is driving Ford's need for smaller engines, engines the company designs particularly well.

"Actually, Ford has been ahead of the curve. It came out with its EcoBoost engine in its trucks which has been very popular. And they came out with very small cars like the Fiesta and the very competitive Focus early in the game. So, Ford has really been able to take on the Korean and Japanese automakers very well."

Krebs adds that because auto unions are losing members, the UAW is collaborating more with companies to keep them competitive so more jobs are created.

---
---
---
Stories with Recent Comments