Loading...


Ohio



Friday, February 15, 2013




A Q and A with the head of the Ohio EPA about Youngstown dumping




Scott Nally provides details on what's been going on with two fronts: criminal and cleanup


by WKSU's M.L. SCHULTZE


Web Editor
M.L. Schultze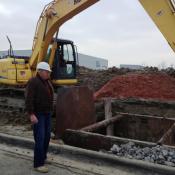 Scott Nally's agency, the Ohio EPA, is directing a clean up that includes new manholes to allow crews to get into storm sewer pipes.
Courtesy of M.L. Schultze
Download (WKSU Only)
In The Region:
Ohio EPA Director Scott Nally was at an EPA conference in Kentucky yesterday and missed the press conference alongside the Mahoning River in which officials announced a federal criminal charge against a Youngstown oil driller. But Nally hasn't missed much else in this two-week saga. WKSU's M.L. Schultze spoke with him about the ongoing investigation and cleanup.
Investigators are confident they know certain things about what happened on an industrial property on Youngstown's northwest side two weeks ago: Employees of a company on Salt Springs road dumped a mix of oil, brine, chemicals and water from a tanker into the storm sewer, and from there it flowed into a tributary and into the Mahoning River.
Today, they filled another blank, charging the owner of the company, Ben Lupo, with a criminal violation of the federal Clean Water Act. But lots of other blanks remain that way, including just how much of just what stuff went down the drain – and over what period. And for those answers, says EPA Director Nally questions may be as effective than science.
Other options:

MP3 Download
(3:41)
That's Scott Nally of the Ohio EPA. He says the case has accomplished one laudatory thing: his agency, the Ohio Department of Natural Resources, the U.S. EPA and Department Justice have worked quickly and with each other on the case.
---
---
---
Stories with Recent Comments