Loading...


Environment



Friday, February 15, 2013




Fracking is coming to eastern Ohio conservancy reservoir




The Muskingum Water Conservancy District is striking a major deal to allow drilling for shale gas under the land surrounding one its major lakes


by WKSU's TIM RUDELL


Reporter
Tim Rudell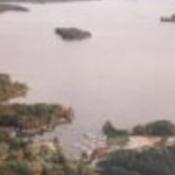 Seneca Lake from the air. It is the largest of the lakes created behind flood control dams in the 1930s
Courtesy of Muskingum Watershed Conservancy District
Download (WKSU Only)
In The Region:
Fracking is coming to Seneca Lake in Nobel and Guernsey counties. Oil and gas rights are being leased for more than 6,000 acres of land around the biggest of eastern Ohio's conservancy reservoirs. WKSU's Tim Rudell reports.
Third Utica deal
The deal between Antero Energy and the Muskingum Water Conservancy District promises a $6,200 per acre signing bonus, which comes to about $40 million. And the district will get royalties of 20 percent of the gross from gas and oil produced from the property; there's no estimate yet of what that may total.

In the past two years, the eastern Ohio conservancy district has signed deals for the grounds around Clendening and Leesville lakes for a combined $37 million.

New requiremeents
The Seneca leases prohibit Antero from putting well pads on the public land. They have to drill horizontally underground from adjoining properties. The leases also require extra environmental controls, including limits on noise and light, at those adjacent locations. Darrin Lautenshleger of the district says the money will go to help pay down debt and for more urgent needs.

"The estimate of deferred maintenance, compliance issues and infrastructure upgrades that are needed at public use, public access and recreational facilities is in excess of $80 million."

The Conservancy District has leased gas drilling rights since the 1930's and already has 275 wells on its land.
---
---
---
Stories with Recent Comments