Loading...


Arts and Entertainment



Thursday, February 21, 2013




"Project Runway" helps shift the fashion world's sense to Northeast Ohio




The man now known as Suede has gone from Kent State to "Project Runway" to wildly successful product launches


by WKSU's KABIR BHATIA


Reporter
Kabir Bhatia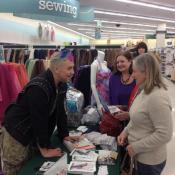 Members of the Akron chapter of the American Sewing Guild were tickled to meet Suede, who grew up in Seven Hills
Courtesy of K. Bhatia
Download (WKSU Only)
In The Region:
"Project Runway" helped transform Stephen Baum into the colorful fashion-world presence known as Suede. And Suede is now helping to shift the fashion world's attention from the East and West coasts to Northeast Ohio. WKSU's Kabir Bhatia has more.
When he was growing up in Seven Hills, David Baum says he knew his brother would someday "rock it" in the design world.

"He's always had such an amazing eye for fashion and beauty. I wish I had his eye for that kind of stuff." The elder Baum is a pediatrician at Akron Children's.

His brother, Stephen, is better known as "Suede."

The billion-dollar man
He went on from Kent State's fashion program to TV's "Project Runway," and product launches for the likes of Fubu, Jordache and Polo that have generated about $5 billion in sales. He splits his time between the Big Apple and upstate New York, but was back in town recently to unveil SuedeSays. That's his new project with Hudson-based Jo-Ann
Fabrics, which contains some unusual fabric names.


"It's called 'Animal Hombre,' which I know you can't see, but it also happens to be the color my hair right now. Lots of great blues and purples and pinks. I like to give things nicknames. That's why I became 'Suede.' But an animal hombre is something where we take an animal print, you hombre it so the colors go from one to another, and we add a lot of color into it."

The center of attention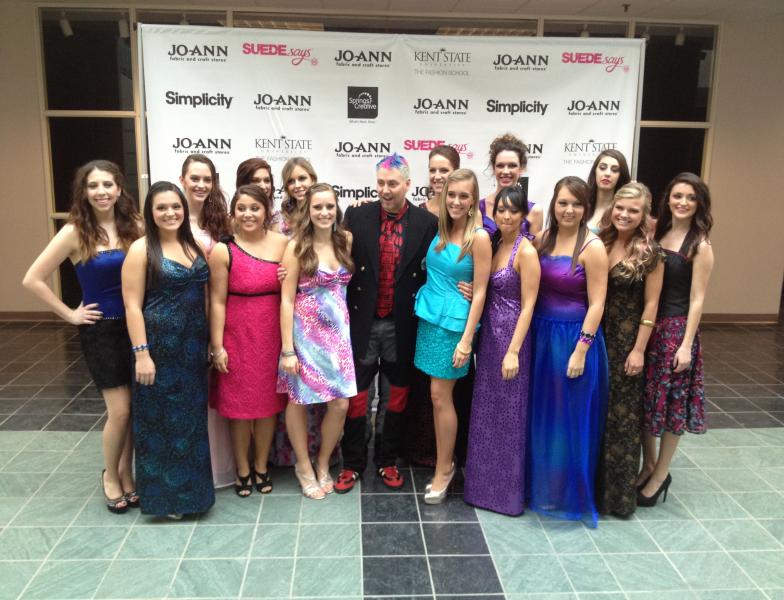 The crowds came out as much for the man as for the material. Bobbi Gallagher is from the Akron chapter of the American Sewing Guild and works with 4-H sewing students.

"They've seen him on TV, and this is something they're really looking forward to: textures, bright colors, teals, salmons and sherbet."

That description could apply to Suede himself, since he seems to radiate fashion -- from his chameleon-like hair to his neatly trimmed beard to his delight at being the center of attention.

Mixing and matching
For Kent State fashion majors like Kate Hatker, he's a role model.

"A lot of people don't know that Kent State has a great fashion program. So I think it's just bringing awareness to that. When you're working long hours it's kind of nice to know that you make it if you work hard enough."

The avid seamsters who love mixing and matching fabrics, patterns, colors, threads and styles drive the market,
according to Dan Cox, a veteran buyer for Jo-Ann's. He says Suede's media exposure and unusual palette are key to the new collection.

"The die-cut fabrics are something we have not done before. There's a lot of embroideries. There's a lot more media exposure to the runway shows and programs like 'Project Runway,' where were you are seeing a lot of ready-to-wear influences. And people's tastes have evolved as well. They're looking for something different and more stylish."


Shifting the fashion world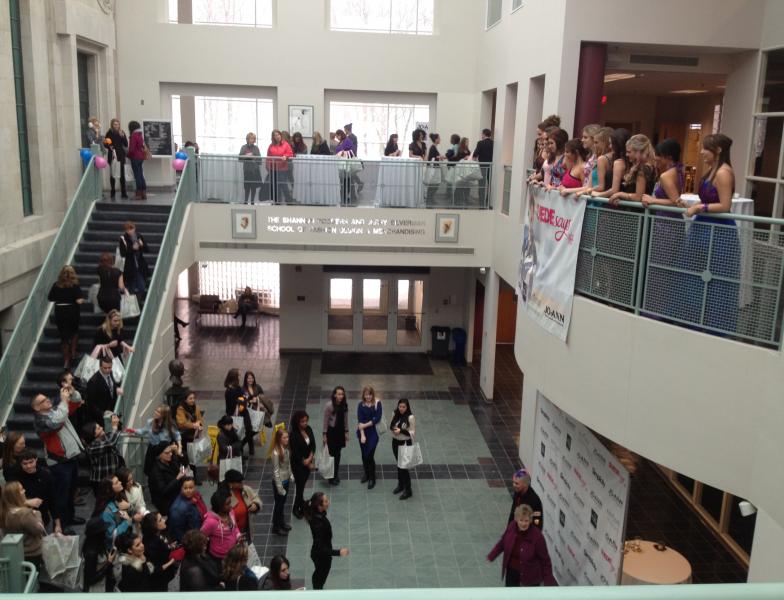 The chain is thrilled to have a local-boy-who-made-good in their ranks. And Suede is thrilled to have brought practical, real-world experience to Kent's fashionistas-in-training.

"We certainly could've done this launch in New York or Los Angeles," says Suede-nee-Baum. "But me being from Northeast Ohio, Jo-Ann's being here, Kent being here, it made sense for us to bring it home. And really express that fashion really does happen everywhere."

Ticket demand was so great for the premiere event, organizers had to double the number of showings despite a massive snowstorm.
---
---
---
Stories with Recent Comments