Loading...


Economy and Business



Thursday, February 21, 2013




Ford's Brook Park plant is adding hundreds of jobs to build EcoBoost cars




But workers aren't ready to link the new jobs to the narrow passage of a union contract this week


by WKSU's KABIR BHATIA


Reporter
Kabir Bhatia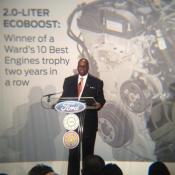 UAW Vice President Jimmy Settles says nine local service jobs are spun-off from each of the 450 jobs Ford's Brookpark Engine plant will add to build the 2.0-liter EcoBoost engine.
Courtesy of K. Bhatia
Download (WKSU Only)
In The Region:
Ford announced today it's bringing 450 jobs to its plant near Cleveland Hopkins Airport. The move comes just days after workers voted to accept a new contract, which passed by nine votes. WKSU's Kabir Bhatia reports.
The Brook Park plant already builds six-cylinder EcoBoost engines, and the new jobs are tied to production of a four-cylinder version. That engine is already made in Spain. But instead of upping production there, Ford chose to bring the jobs here. The company hopes to increase sales of EcoBoost cars by 50 percent this year.

The recent union vote has been tied in national reports to the decision to build the new engine in Brook Park. But Rod Lee, who works in the plant's health and safety center, is not sure there's a cause and effect.

"I really don't think that Ford's going to let the guys that work down here ... decide where they place major product lines like this. There's a business case to be made. But it sure didn't hurt that we accepted the contract. That was a good thing for us."

Jobs at the Spanish plant will not be affected, as some workers shift there to assembly work. Ford is closing another Northeast Ohio plant, Walton Hills, next year. UAW Local President Mike Gammella says many of the 300 people working there will be able to transfer to Brook Park.
---
---
---
Stories with Recent Comments