Loading...


Education



Thursday, February 21, 2013




Strongsville teachers are set to strike if settlement isn't reached




Teachers in Strongsville authorize a March 4 strike if an agreement with the district isn't reached


by WKSU's JEFF ST. CLAIR


and

OZZIE IKUENOBE



Reporter / Host
Jeff St. Clair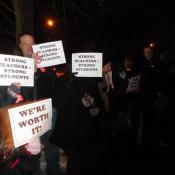 Strongsville teachers say if a settlement isn't reached by March 4, then they will go on strike
Courtesy of Strongsville Patch
Download (WKSU Only)
In The Region:
Teachers in Strongsville filed notice today that if a settlement with the district is not reached within 10 days, they may go on strike. The Strongsville teachers union voted overwhelmingly last Friday to authorize the work stoppage, which is now set to begin March 4th. The two sides have been trying to hammer out an agreement for nine months. The last contract expired in June. Strongsville school Superintendent John Krupinski says the issue comes down to costs versus revenue in the Cuyahoga County district.
"As a school district we must always operate in the black. In order to do that, we have to balance our budget in some way, shape, or form -- either through reductions in budget or staff."
Krupinski says the schools will remain open in the event of a strike. The union says a strike may be necessary to protect working conditions for teachers.
---
---
---
Stories with Recent Comments