It's after school and not long until dinnertime as eleven elementary school children and their parents gather in the cafeteria for a "Tot Chef" class.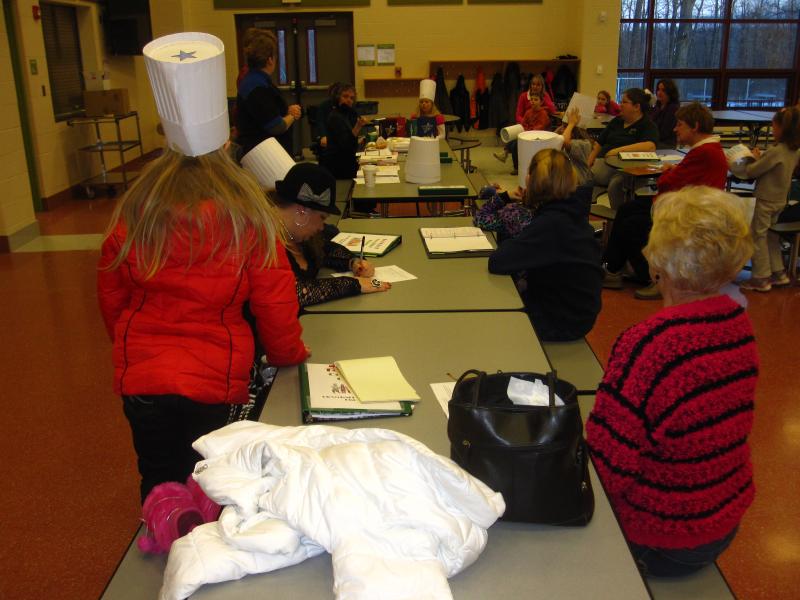 "Guys, we're going to go ahead and get started. I apologize we're a little bit late. My name is Carrie Beegle. I'm the food service director here at Cloverleaf. Who out of all the kiddos here, who knows what that means?"

"You're in charge of all the food."

"Yes. And I gotta tell you. It's the best job in the world."
On a mission to show parents what they're missing
The idea of a cooking class for parents and kids hit Beegle as she stood behind a young father in a grocery-store checkout line.
"He was buying pre-packaged foods; you know just not foods that are good for you. And I could tell he was a single dad and he was trying to do the best that he can. And he's the reason why I'm doing this class, to reach those single parents, to reach the parents, to show them that cooking can be fun with their kids."
The Cloverleaf schools sprawl over a large campus in the village of Seville in a rural part of southern Medina County. The new elementary school building opened last year with 1,200 pupils and a new approach to school lunch: giving kids more healthy options.
The second- and third-graders are well acquainted with Chef Carrie and her lunch ladies and pretty excited about the class.
Plenty of fun and a few important rules
"It's a lot of fun and you're gonna learn a lot, but I have to tell you, you also have to clean up your messes."
And, obey the rules.
"The first rule that I have in the kitchen is: ... No monkeys. What does that mean? ... No being silly. No jumping. There's no climbing on things because we don't want you to get hurt. OK?"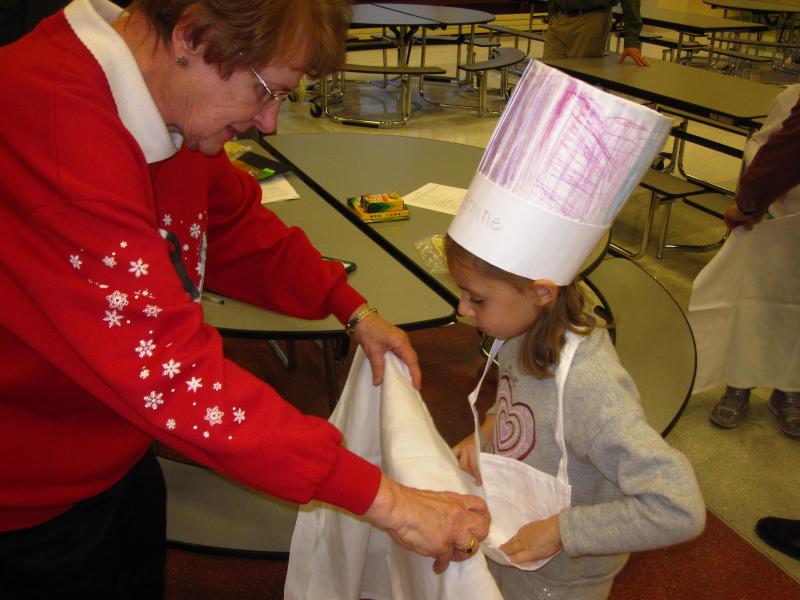 Children grab crayons and get to work decorating their chef's hats while Chef Carrie instructs their parents.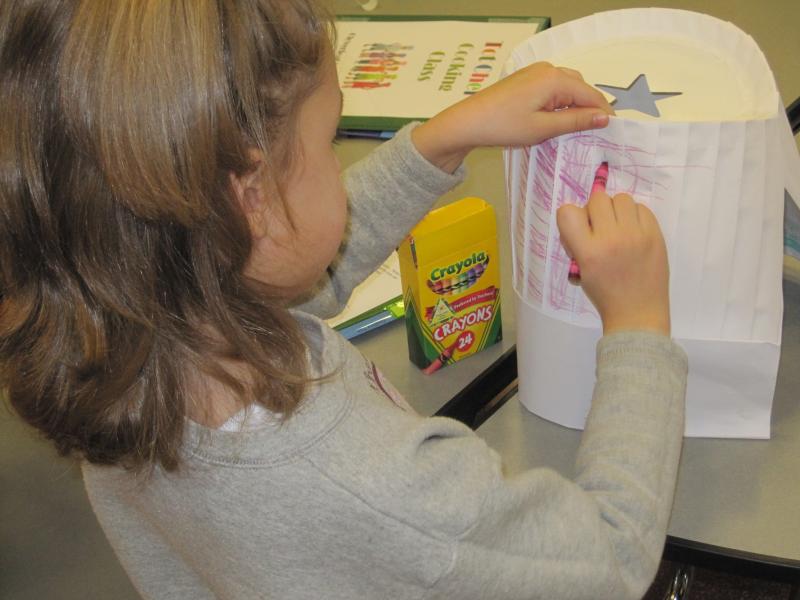 "What we're gonna do is I have these aprons here. We're gonna hand these out so parents if you'd like to help out and put these on the students, put these on your children."
Sister leading sister
Seven-year-old Jennifer Hildebrand is an old hand at this. She was Chef Carrie's star pupil in last year's Tot Chef class and returns now, with more meat on her bones and her whole family in tow.
Jasmine is Jennifer's little sister.
"How old are you?"
"Five."
"What is your very favorite thing to eat?"
"Rolls. Bread rolls with lots of butter."
Trouble is, that's about all Jasmine wants to eat. The girls' grandparents have had custody for two years. Cathy Shimko, their grandmother, used to worry about Jennifer's picky eating, too. That was before last year's Tot Chef class.
"But after cooking she would eat what she cooked and now she tries things. I used the 'Mrs. Beegle would be very proud if you tried this,' and she goes 'OK' and she likes it. Or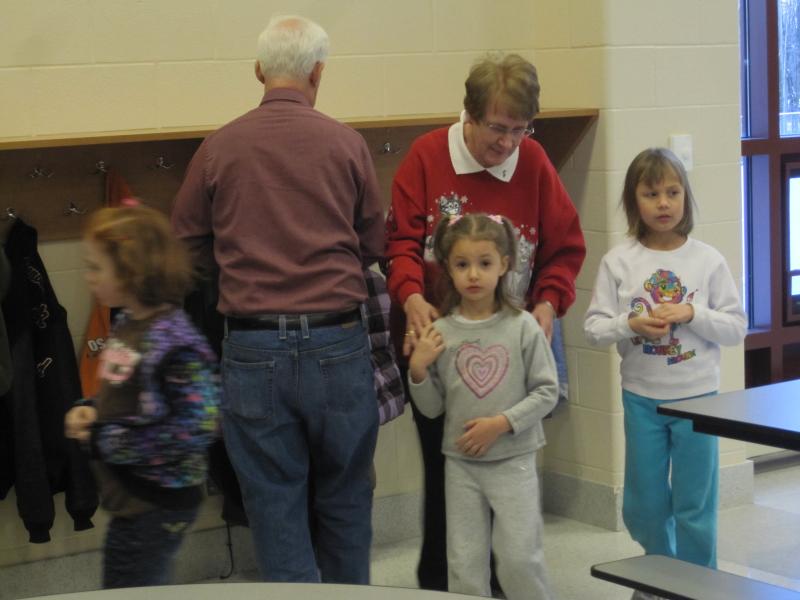 she doesn't like it, but at least she tries it."
Now little Jasmine will at least take a tiny bite, too, and Shimko says Jennifer is a pretty good influence.
"She'll say, 'Try it Jasmine. Try it. Try it and you can go to cooking school with me.' So that's what got us here."
De-mystifying the cafeteria kitchen
Chef Carrie takes the kids, parents and grandparents on a tour.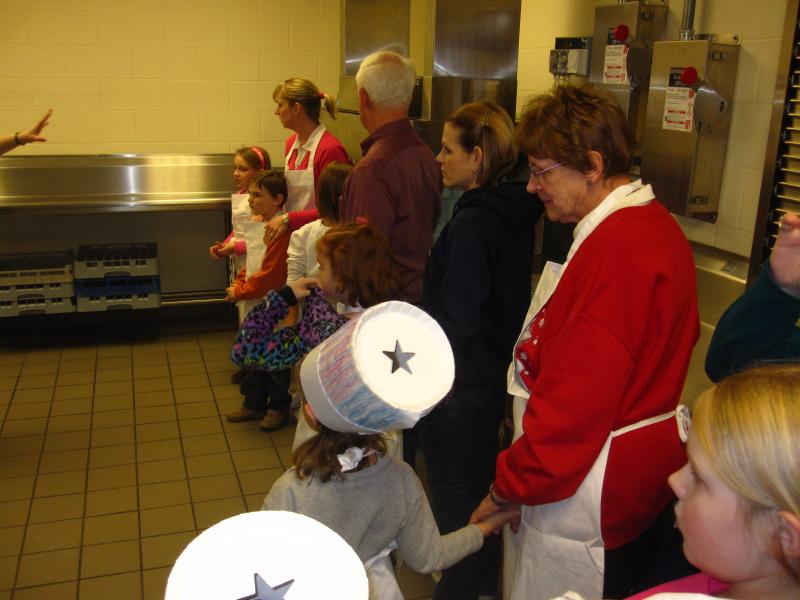 "This here is a hand-washing sink. OK. Who knows the rules of hand-washing? "Yes, Ma'am."
"For at least 20 seconds."
"For at least 20 seconds.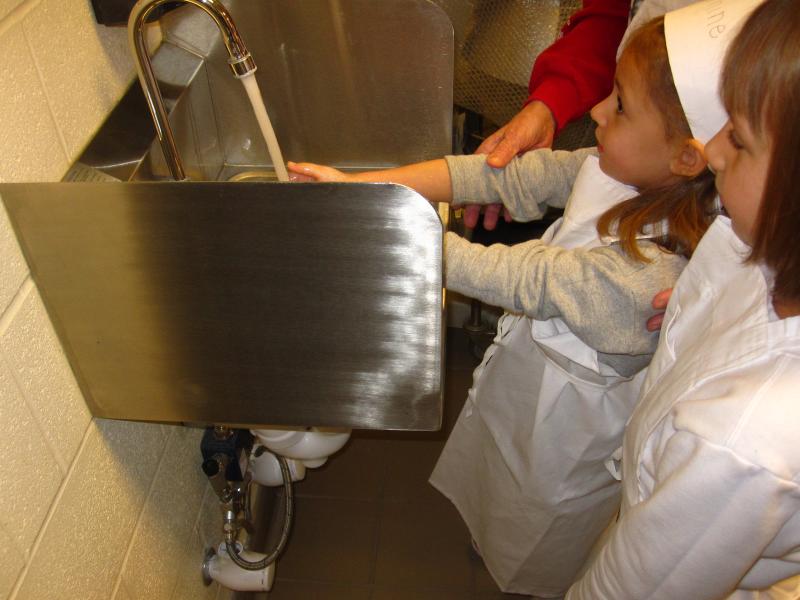 ... We usually sing when we're doing it so we know that we're washing our hands properly. The alphabet or happy birthday. Did you guys know that?"
Chef Carrie excuses herself for a minute to make sure the ingredients are assembled for Asian noodle bowls and baked vegetable wontons.
"Go and pick a hand-washing sink and wash those hands. OK. Wash them good. And I'll be right back. I'm gonna sing the birthday song. Sing my ABC's."
Children get to choose
What goes into the veggie wontons is up to the little chefs. Their parents help them select from a countertop piled high with bok choy, water chestnuts, bamboo shoots, peppers,
garlic, broccoli, carrots and onions.
"Let's go get a pepper and cut it. ... Jasmine you have to try something. What do you want? Do you want mushrooms? You want to go get bean sprouts, pepper? Now rinse that pretty good. There you go."

Families pay $5 per lesson for the Tot Chef classes just to cover the cost of materials. The program's supported by a $4,000 grant from the National Football League and the American Dairy Association.
Sharpening their knife skills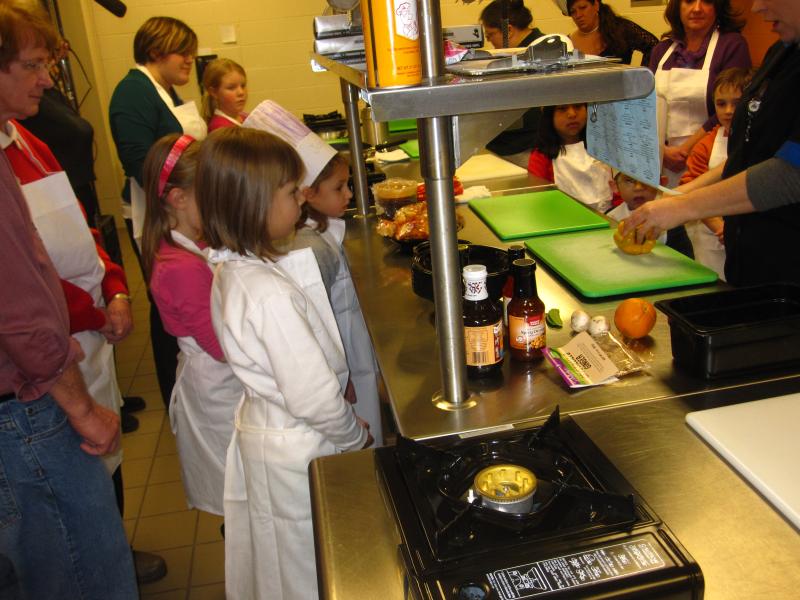 Some of the children are preschoolers and kindergarteners. But Chef Carrie is ready to put sharp knives in their tiny hands.
"We're gonna be using these small knives. OK. Sometimes the parents might use some larger knives, but you guys are going to be using these."
She shows the children a safe way to grip their vegetables, tucking in the fingers.
"And then, you're gonna use just the side here of your finger as a guide. And you're gonna go in a sawing motion.
No one leaves hungry. Everyone leaves smarter
The parents and grandparents learn a lot, too, about nutrition. about how best to eat out with their kids and how to read labels.
One mom told Chef Carrie Beegle that she's lost seven pounds since taking last year's Tot Chef class with her daughter.
But all the parents and grandparents say the biggest benefit of the class is spending time with the kids. And Chef Carrie says that shared experience is what was important to her.
"My parents, my grandparents. I learned how to cook from my grandmother and my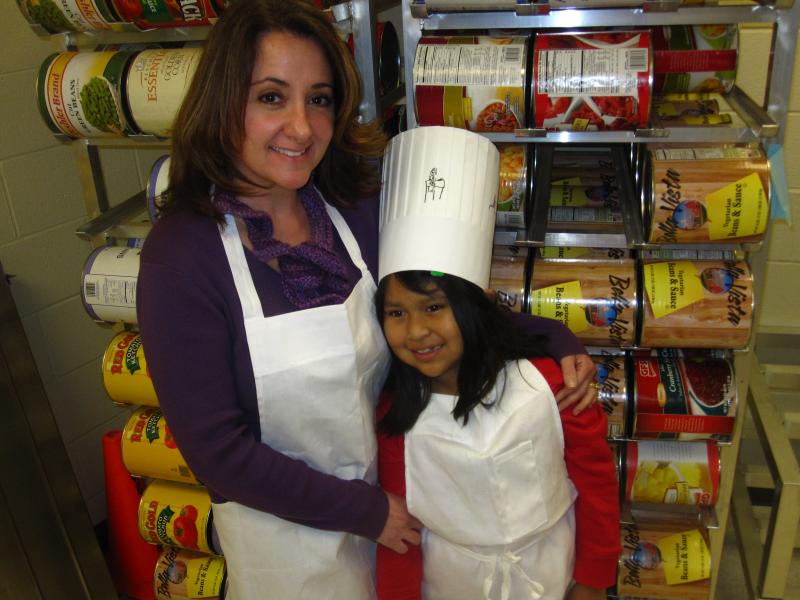 mother. It's a time of my life that I cherish very much and I like to pass that on."
The pay off for the Chef comes almost every day at school.
"They see me in the hallway and they say ,'Chef Carrie, Chef Carrie, guess what? I learned how to eat Chinese food!' And these are students that didn't eat anything other than chicken nuggets and pizza. It's fabulous. It's great to watch."
Chef Carrie has her family's support, too, for the Tot Chef Class. Executive Chef Greg Beegle, her husband, helps teach it along with other local chef-volunteers.
And that's this week's Quick Bite.